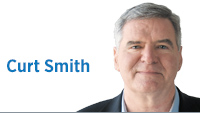 As we prepare to observe Martin Luther King Jr. Day, Hoosiers need look no further than the November election to know race relations are improving across Indiana.
That is because an African-American candidate, running statewide for the first time and as a Republican no less, secured more votes than any candidate in Indiana's 200-year history. This remarkable achievement for Curtis Hill, our new attorney general, is all the more noteworthy when we consider the fuller context.
First, this was Hill's first run for statewide office. Accordingly, he was far from a household name or a known presence in public life. True, he was elected to three terms as the Elkhart County prosecutor. But that brings us to point No. 2.
Namely, he did not hail from one of our state's larger population centers, such as Indianapolis or the Lake County region. Hill's achievement in garnering a record-shattering 1,643,689 votes shines even brighter when we see his home county contributed 47,837 votes—or less than 3 percent of his total vote. The politics of geography matters, and Hill had no natural advantage as an officeholder from a midsize county in our state's northernmost reaches.
Third, the attorney general is the state's top attorney and voters are generally aware that the office seeker is a lawyer. So for the No. 1 vote getter in all of Indiana's history to be an attorney is also counterintuitive, at least for this author, given the overall standing of the legal profession (versus, say, law enforcement or military or the clergy).
Finally, Hill is a Republican. So one might speculate he left some votes on the table when he chose to align with the party that gets, typically, fewer African-American votes than the Democratic Party.
Add to this the false and scurrilous allegation that the Republican Party in general, and the national ticket in particular, ran a "racist" campaign aimed solely at "angry white men" to the exclusion of minorities. This is the Clinton campaign's so-called dog-whistle argument. The Hill race exposes that lie for what it is—a pathetic attempt to explain away the left's failure to compete and win on issues.
Hill's victory suggests he has a bright future. But it also tells us Indiana has much to celebrate as we honor the dream and legacy of the Rev. Dr. Martin Luther King Jr. Indiana, the first state admitted into the American Union with an outright constitutional ban on slavery, has now elected an African-American leader with more votes than anyone in Hoosier history.
Yes, some have had a higher percent of the overall vote in a given election, including the rare unopposed, which means he or she got 100 percent of the vote cast. But to consider that Curtis Hill won more support in a single election than any other statewide candidate of any party—including Ronald Reagan, Lyndon Johnson, Evan Bayh, Mitch Daniels, Otis Bowen, Dan Coats, Dick Lugar and more—is to realize Hoosiers are looking for good candidates, not stereotypes.
That happy fact is worth saluting Hill for, as well as offering a hat tip to all Hoosiers as Indiana continues to provide national leadership as a state and a people committed to achieving the dream King so ably articulated for us all: "a day when we are judged by the content of our character, and not the color of our skin."
Hoosiers win the character contest every time.•
Please enable JavaScript to view this content.