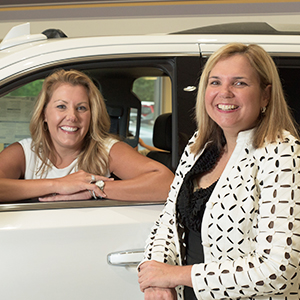 After six generations of family ownership, Indiana's largest Chevrolet dealership—known for its Sisters of Savings radio ads—will be sold to a Duluth, Georgia-based publicly traded company.
Asbury Automotive Group Inc. this week agreed to buy Hare Chevrolet in Noblesville as well as its sister companies—an Isuzu dealership, collision center and a truck center that works on fire engines, ambulances and other commercial trucks.
The name of the dealership will go unchanged.
Terms of the deal, which are expected to be finalized Jan. 23, are not being disclosed. Hare Chevrolet employees, who will be retained after the sale, were notified of the deal Thursday.
Asbury officials said they couldn't comment on the sale until Jan. 25.
Hare Chevrolet has been run by the same family dating back nearly 170 years, when it dealt in wagons and buggies. Automobiles were added to the lineup in 1912.
More recently, Hare Chevrolet has become known for its female owners—sisters Monica Peck and Courtney Cole—a rarity in the auto dealership business, as well as their ubiquitous radio commercials featuring "The Sisters of Savings."
Last year, the sisters told IBJ that they know some listeners find the commercials annoying but that they are highly effective. And they won't be going away.
Peck and Cole signed a deal to continue doing the radio ads for the next five years.
"The advertising is very strong and has given the dealership tremendous brand recognition," Cole said, "and they wanted to continue that."
Peck and Cole bought the business from their parents in 2008, and after weathering the Great Recession, grew the company into Chevy's biggest dealership in the state, according to General Motors.
Peck and Cole started their Sisters of Savings ad campaign in 2010 and saw sales quickly rise from 200 automobiles per month to more than 500. When they bought the dealership, Hare Chevrolet was selling 140 automobiles per month.
Peck, 42, and Cole, 45, said they've been in discussions with Asbury for more than a year.
"We were approached as we have been many times before, and as we listened and got to know [Asbury], we realized this is a company that has a lot of the same values and ways of doing things as we do," Peck said. "It was the right offer by the right company at the right time in our lives."
The sisters said pulling the trigger on the sale was one of the most difficult decisions they've ever made. They added that their parents, Dave and Jackie Cox, were consulted on the deal.
"It was a family decision," Peck said.
One reason for the sale is Cole's ongoing fight with cancer.
"I'd say that's a factor, for sure. When you have stage four lung cancer, you have to look at things differently than you did before," said Cole, a non-smoker who contracted lung cancer, which then spread.
Cole added that she is doing well and that her last round of treatment is working and the cancer is not currently spreading.
The dealership's radio advertising isn't the only thing that will remain. The name of the dealership will not change and "100 percent of the employees"— 230 full-time and 20 part-time people—will remain with the company after the sale, Peck said. "That includes General Manager Jason Horack."
Asbury wants "very little to change. Their philosophy is not to mess with a well-oiled machine," Peck said. "They will bring in back-end support that a big company can, but there will be very little if any difference customers will notice."
Asbury Automotive Group is one of the largest automotive retailers in the country. It operates 77 dealerships, consisting of 93 franchises, representing 28 domestic and foreign brands of vehicles. Asbury also operates 23 collision repair centers and four stand-alone, used vehicle dealerships.
As for the sisters, their day-to-day involvement in Hare Chevrolet is ending, though they will continue with some community outreach on the dealership's behalf. Peck and Cole said they are still deciding on their future plans. Both want to spend more time with their school-aged children, and Cole said she plans to do more charity work for cancer causes.
"We're not ones not to do anything," Peck said. "We're going to stay involved in the community."
Please enable JavaScript to view this content.