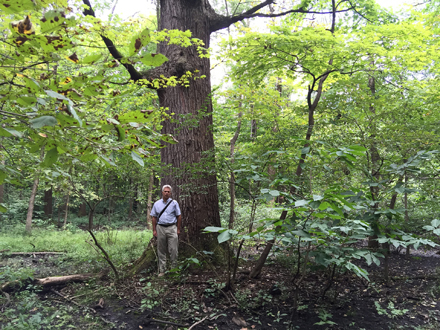 A federal judge on Friday shot down a legal effort by environmentalists to block development of a U.S. Department of Veterans Affairs' cemetery on 15 wooded acres north of Crown Hill Cemetery.
The Indiana Forest Alliance, one of the plaintiffs in the suit filed last month, said in a statement Saturday that it will appeal Judge Jane Magnus-Stinson's decision to the U.S. Court of Appeals in Chicago.
"It's a profoundly regrettable decision that makes a travesty of our environmental law," Jeff Stant, the alliance's executive director, said in the statement. "We do not believe the VA complied with the spirit or the letter of the National Environmental Policy Act."
NEPA, enacted in 1970, requires federal agencies to assess the environmental effects of their proposed actions prior to making decisions.
In her 26-page ruling rejecting the plaintiffs' motion for a preliminary injunction, Magnus-Stinson wrote that the alliance "overlooks the limited scope of this court's administrative review, overstates the impact of the project and minimizes or even disregards the extensive process the defendants utilized to solicit feedback and determine the environmental impact of the project on the property."
The VA paid $810,000 in September 2015 for 14.75 acres on the northern border of Crown Hill to create the cemetery, which would include a series of columbariums for housing cremated remains of veterans and eligible family members.
But the plan spurred vehement opposition from environmentalists and nearby residents who objected to the planned removal of old-growth trees at the site, some of which they say are at least 300 years old.
A potential solution to the standoff emerged in November, when the Dr. Laura Hare Charitable Trust presented a "negotiable" offer to the VA to buy the property. Environmentalists said the deal would save the property from development and help the VA recover expenses related to its plans.
But the VA so far hasn't responded to the offer, apparently signaling it plans to move forward.
"It's unfortunate that the VA has chosen this destructive course when they have a viable partner to save this forest and also achieve their goals," Lenore Tedesco, a spokeswoman for the Hare Trust, said in a statement Saturday.
Opponents of the project plan to hold a public candlelight vigil from 4 p.m. to 5 p.m. on Jan. 16 at the property.
 
Please enable JavaScript to view this content.