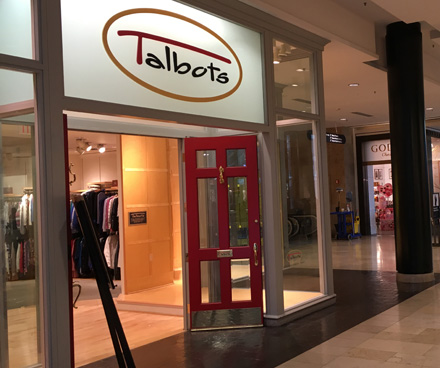 Women's clothing purveyor The Talbots Inc. will be closing the doors of its Circle Centre mall store on Sunday, according to its parent company, as fashion retailers continue to exit the downtown mall.
"It is company protocol that at the end of a lease we review the store in order to maximize our real estate plans. We decided this time to close this store," a representative for private equity firm Sycamore Partners said in an email to IBJ on Monday morning.
Talbots' other Indianapolis store, at The Fashion Mall at Keystone on the city's north side, will remain open. The retailer also has locations in Lafayette, Granger, Evansville and Fort Wayne, along with outlet-style stores in Edinburgh and Michigan City.
Founded in 1947 and based in the Boston suburb of Hingham, Massachusetts, Talbots operates more than 500 stores in 46 U.S. states plus Canada. The New York-based private equity firm Sycamore Partners acquired Talbots in 2012. 
Sycamore specializes in retail and consumer investments. Its current holdings include Charlotte, North Carolina-based department store chain Belk Inc., Coldwater Creek, Dollar Express LLC, Hot Topic Inc., and Nine West Holdings, among others. 
Talbots isn't the only tenant exiting Circle Centre this week. Women's clothing store The Loft will have its last day of operations on Saturday. The two retailers are located directly across from one another on the second floor of the mall.
Fashion retailers have been exiting Circle Centre—and malls all over the country—in droves as they face a fundamental shift in how consumers buy clothes. IBJ reported on Jan. 5 that national retailer The Limited was closing stores nationwide, including its locations in Circle Centre and Castleton Square Mall.
Other defections from Circle Centre in the last two years include Gap, Gap Kids, Johnston & Murphy, Wet Seal, and Delia's. 
Please enable JavaScript to view this content.