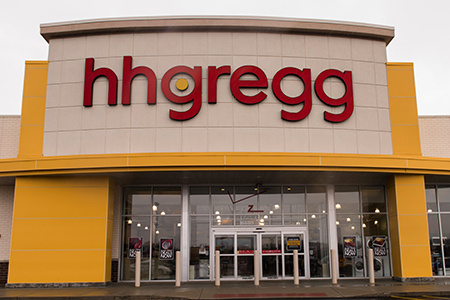 It's come to this for HHGregg Inc. after a years-long slide: Analysts are beginning to question whether the appliance and consumer electronics retailer can survive.
Even though the Indianapolis-based chain's shares trade for a mere 69 cents apiece, the investment firm UBS has a "sell" recommendation on the stock, concluding in a recent report that "it will continue to be a challenge for [HHGregg] to reverse its fortunes."
The shares took a dramatic tumble on Jan. 9, after HHGregg reported disastrous preliminary sales figures for the quarter ended Dec. 31. Sales of stores open at least 14 months tumbled 22 percent, dragged down by a 39 percent plunge in consumer electronics and 4 percent decline in appliances.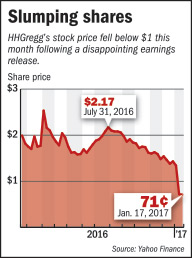 In the first day of trading following the after-market announcement, HHGregg shares shed 40 percent, closing at 78 cents on trading volume that was 20 times the norm. The stock has continued to tick down since.
HHGregg's model "simply isn't built to sustain such large sales decays," UBS retail analyst Michael Lasser said in a report.
He said he didn't foresee a turnaround until store traffic improves, adding that in an environment where HHGregg "has felt the need to become increasingly cautious on advertising expenses, we expect this will be tough to do."
In its Jan. 9 announcement, the company said it expected quarterly sales of $453 million, down from $593 million in the same quarter of last year and far short of the $564 million forecast by analysts.
HHGregg "remains a challenged retailer in a challenged space," Greg Melich, an analyst at Evercore ISI, wrote in a Jan. 12 report. "It's hard to get excited about a company with falling traffic, falling share and falling gross profit dollars."
The company, founded in 1955 and now operating 220 stores in 19 states, went public at $13 a share in 2007. The stock later went on a tear, rising to $30 in 2010 before price deflation in consumer electronics and other challenges magnified by its rapid growth sent performance into a tailspin.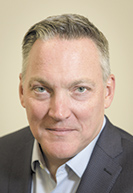 Riesbeck
The company now has failed to turn a profit in 12 consecutive quarters, leaving analysts to ponder whether it has a future in an increasingly competitive retail environment dominated by far-larger companies, from Amazon.com and Wal-Mart to Best Buy and Lowe's.
Both Evercore and UBS say, however, that HHGregg can improve market share if it can capitalize on Sears' troubles. That company announced plans in early January to close 150 stores, about 10 percent of 1,500 locations.
But with HHGregg's same-store sales and stock price falling so precipitously, the retailer is a "warrant on survival," Evercore's Melich wrote.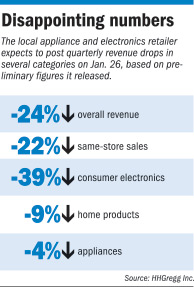 HHGregg CEO Robert Riesbeck declined to comment, citing the quiet period leading up to the scheduled release of full fiscal third-quarter results on Jan. 26. But in the Jan. 9 press release, he said HHGregg made the strategic decision to compete less in the consumer electronics category during the holiday season and will continue to focus on appliances and home products.
The company also will continue transitioning from entry-level televisions in favor of more expensive premium models.
Riesbeck has continued to strike an upbeat tone. After HHGregg on Jan. 3 announced the hiring of 32-year-old Aaron Trahan as chief merchandising officer—the fifth person to hold that position in as many years—Riesbeck described Trahan as a "rising star" in the industry.
"Although this year has been trying from a comp sales and profitability standpoint, I'm confident that the changes to the team and our strong liquidity position have set us up for future success," he said in an email to IBJ.
The company had no debt as of Sept. 30 and was eligible to borrow up to$142 million under a line of credit. However, its financial cushion is shrinking. It had cash and cash equivalents of just$1.27 million as of Sept. 30, down from $34.8 million on Sept. 30, 2015.
In an effort to boost appliance sales, HHGregg intends to open more locations of its super-premium Fine Lines chain. The company ended its latest fiscal year in March with 11 of the stores and plans to ramp up quickly. Riesbeck told IBJ in September that HHGregg hoped to open 20 to 25 Fine Lines locations over the next 18 months.
HHGregg has found that, when it adds a Fine Lines to an existing store, it doubles appliance volume in that store, he said.
The company has put the brakes on adding HHGregg locations, but so far has not announced mass closings. In August, HHGregg shuttered all five of its stores in Wisconsin and another in Vernon Hills, Illinois, north of Chicago.•
Please enable JavaScript to view this content.