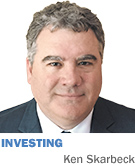 We continue our discussion on forming good financial habits at an early age which, based on the response I received to my last column, are worth communicating to all young women and young men starting their careers.
There is no question that it can be difficult to sock away money at an early age. Expenses such as housing, autos, food and perhaps starting a family all chip away at the paycheck.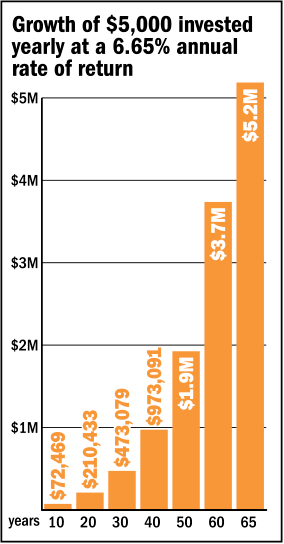 Also tugging at your bank balance are temptations to spend money on nonessential items and indulge in what psychologists call "instant gratification." While it's fine to occasionally treat yourself within reason, it is important to avoid credit-card-fueled spending, which is a wealth destroyer. The secret to long-term financial success is "living below your means"—i.e. spending less than you earn while saving and investing the difference.
If you are conscious of your projected financial future, you should be better prepared to make wiser decisions. Warren Buffet in his early years simply detested spending $10,000 today on, say, furniture because in his mind he was really spending $80,000. He was calculating what investing $10,000 would be worth in perhaps 15 years.
What makes saving and investing at an early age so powerful is compounding returns. For illustration purposes, I chose a 6.65 percent annual rate of return, since, at that rate, the Dow Jones industrial average advances fivefold in 25 years, from its current 20,000 to 100,000. Also, 6.65 percent happens to be the annual rate of return from stocks over the past 65 years. In 1951, the Dow index was 250. Thus, over 65 years at a 6.65 percent return, the value of $1 invested in the Dow has increased 80 times (20,000/250).
The magic of compounding comes alive in the chart accompanying this article.
If the investor starts at age 20, $5,000 invested annually approaches $500,000 by age 50. Then the growth appears to accelerate. By age 85, the account surpasses $5 million, even though total annual contributions were only $325,000. This is why some pundits have sensationally referred to compounding returns as the eighth wonder of the world.•
__________
Skarbeck is managing partner of Indianapolis-based Aldebaran Capital LLC, a money-management firm. His column appears every other week. Views expressed are his own. He can be reached at (317) 818-7827 or ken@aldebarancapital.com.
Please enable JavaScript to view this content.