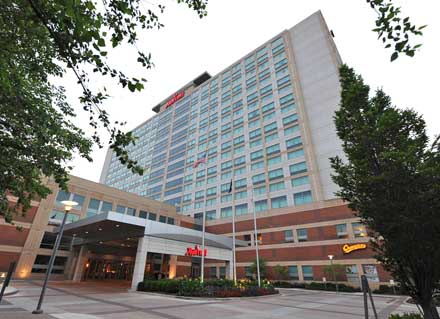 Indianapolis' hotels beat the national average for revenue growth last year on the strength of robust local convention traffic, Visit Indy President Leonard Hoops told members of the Capital Improvement Board at its monthly meeting Friday morning.
Through November, downtown Indianapolis hotels saw their revenue increase 8 percent over the same period a year ago, according to Smith Travel Research, far ahead of the national average of 4.9 percent.
Marion County hotels saw a 7.3 percent increase through November, while the entire Indianapolis metropolitan area also enjoyed 8 percent growth, according to STR.
"It's a surprise that we have that kind of growth in a group-dominated market," Hoops told IBJ after the meeting.
Hoops explained that revenue from group business such as conventions and association meetings is usually much more stable than "business transient" revenue.
"Group business is booked years in advance and is impacted less by fluctuations in the economy," Hoops said. "Business travel on the other hand is booked and can be canceled with much shorter notice. So if the economy is going good that can pick up, and if there's a downturn, people can quickly cancel business meetings where travel is required."
The revenue increases for downtown and Marion County ran ahead of demand—i.e., the number of hotel rooms booked—according to Smith Travel Research. Demand in 2016 was up less than 4 percent downtown and 1 percent in Marion County.
"That shows you that the room rates went up," Hoops said, explaining the disparity between the revenue and booking increases.
Hoops attributed that to downtown hotels being full more often due to local convention business.
When downtown hotels sell out, that creates more demand in the suburban markets, Hoops explained, which drives prices considerably higher during peak times.
In other news, the CIB re-elected Melina Kennedy for another one-year term as president and David Corbitt as vice president.
The CIB is a quasi-governmental city agency that owns and in some cases is responsible for operating the Indiana Convention Center, Lucas Oil Stadium, Bankers Life Fieldhouse and Victory Field.
CIB Executive Director Barney Levengood also reported that the Indiana Convention Center and Lucas Oil Stadium have earned a top security rating from the Department of Homeland Security. Earning the rating was a collaborative effort involving local and state police agencies along with the CIB and Indianapolis Colts.
"It's a big effort to get this accomplished," Levengood said. "The Colts were a big part of it."
"This is a very big deal," Kennedy added.
The CIB also approved $270,900 for 3,220 folding chairs at Bankers Life Fieldhouse. The chairs were purchased from Maine-based Hussey Seating.
Please enable JavaScript to view this content.