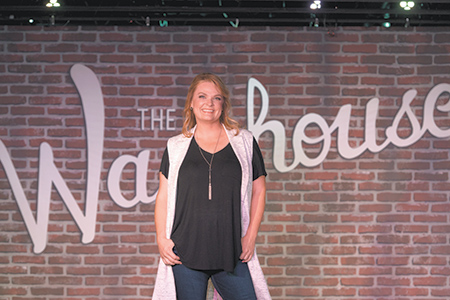 Editor's note: After this story was published Thursday, Sara Watkins moved her Thursday show to Deluxe at Old National Center and Duke Tumatoe moved his Saturday show to Birdy's Bar & Grill. Both performers said Warehouse tickets will be honored at the new venues.
The Warehouse—a small but popular live-music venue in Carmel's Art & Design District—has closed suddenly and canceled future performances.
Attorney BJ Brinkerhoff of Indianapolis-based Katz & Korin, who represents Warehouse owner Heather Ramsey, said Tuesday afternoon that the business was closing immediately. He declined further comment.
An email to customers who had purchased tickets to upcoming shows says the that "due to circumstances beyond our control, The Warehouse will be ceasing operations effective immediately, and no performances will take place."
The email did not offer to refund money to ticket buyers.
Ramsey, a vocal coach who opened the facility in 2014 in the leased building, did not return a phone message on Tuesday. The venue's website and Facebook page are down and its phone is out of order. The Warehouse had been scheduled to host  "An Evening with Tuck & Patti" on Thursday, Sara Watkins on Friday and Duke Tumatoe's CD release party on Saturday. 
Tumatoe's agent, Justin Seidenberg of JSS Artists/Kiqstart Music in Chicago, said Tumatoe's show was sold out and that his team only heard about the closure on Tuesday afternoon in an email. He said he didn't know the reasons for the closure or if the Warehouse planned to refund tickets, but he was exploring other options for the show.
The 1,700-square-foot Warehouse was located in a 60-year-old former machine shop in Carmel. It opened with 150 folding chairs as a place meant to provide parents and grandparents with a place to see their children and grandchildren perform.
Later, The Warehouse began booking larger regional and national acts for intimate concerts, starting with the Los Lonely Boys, a critically acclaimed power trio that scored a No. 1 adult-contemporary hit in 2004 with "Heaven."
Ramsey spent $60,000 on a renovation that added state-of-the-art sound system, acoustic wall panels, a taller stage, merchandise booth and 150 theater-style seats with cup holders.
She then worked with former Ritz Music Hall owner Bob McCutcheon—a longtime local event booker and ex-production manager for John Mellencamp—to land more big acts. Among the dozens of national artists that have played The Warehouse since October 2015 are Howie Day, Rickie Lee Jones, John Waite, Edwin McCain, Spyro Gyra, Phil Vassar, Shawn Mullins, John Hammond, David Benoit, Rhett Miller, the Black Lillies, Tiffany, Marc Broussard and Lou Gramm.
Because of the venue's small size, tickets had to be sold at higher-than-average prices (VIP tickets for Don McLean, for instance, sold for $275), but the price often included extras such as meet-and-greets with the artists before or after the show.
The last concerts in the venue took place Dec. 16-17 when Ramsey, also a singer, led two sold-out holiday performances.
Ramsey told IBJ last fall that she planned to have 100 acts play The Warehouse in 2017.
She said the venue wasn't yet profitable but "would be profitable soon."
"I'm a hundred-percent pleased with where we are right now," she said in September. 
Please enable JavaScript to view this content.