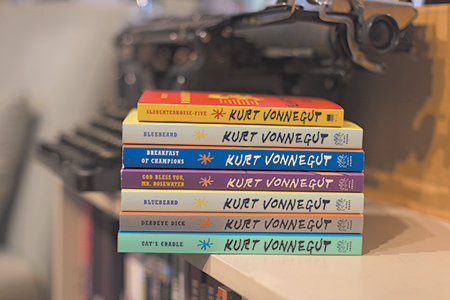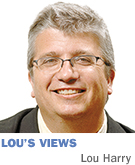 The city of Indianapolis and Mayor Hogsett—teaming up with Visit Indy and the Kurt Vonnegut Museum and Library—have declared 2017 the Year of Vonnegut, honoring the region's most famous literary son (sorry, Mr. Riley).
That's great news for those already initiated. But what if you are a Vonnegut neophyte who wants in on the action but somehow got through high school or undergraduate years without falling under the spell of the iconoclast's singular vision?
Well, it's not too late to jump on the bandwagon. Vonnegut's writing doesn't present barriers to entry. The man didn't write doorstopper novels or dense prose. They go down smoothly, sometimes almost too easily.
But where to start?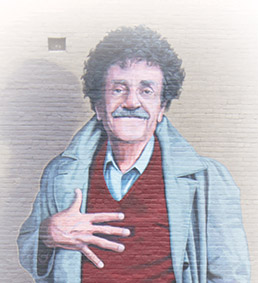 2017 marks The Year of Vonnegut, celebrating the man (depicted in a mural at 448 Massachusetts Ave.) and his writings. (IBJ file photo)
Vonnegut himself graded his books in an essay published in the nonfiction collection "Palm Sunday." There, he gave his highest ratings to "Cat's Cradle" and "Slaughterhouse-5." At the bottom were "Breakfast of Champions" and "Slapstick." These rankings deserve an asterisk, though, because he wrote the essay before the publication of his novels "Deadeye Dick," "Galapagos," "Bluebeard," "Hocus Pocus" and "Timequake."
He's not the only one who has offered a ranking. Zack Handlen at AVClub.com puts "Slaughterhouse-5" at the top and suggests holding off on reading "Timequake," Vonnegut's final novel. Ranker, which aggregates public voting, also put "Cat's Cradle" and "Slaughterhouse-5" at the top, with "Slapstick" and "Deadeye Dick" at the bottom.
I asked around for other opinions. Mark Vonnegut, Kurt's son, advised starting with "God Bless You, Mr. Rosewater" followed by "Cat's Cradle" and "Slaugherhouse-5." When you get to the end of the pile, he suggests reading "Rosewater" again.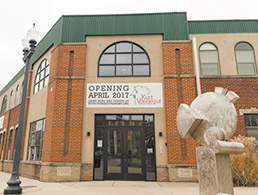 The Vonnegut Library plans to move to
646 Massachusetts Ave. this spring. (IBJ photo/Eric Learned)
Novelist Barbara Shoup, executive director of the Indiana Writers Center, also endorsed "Rosewater," saying, "It's the first Vonnegut book I read and has my favorite Vonnegut quote in it: 'Hello Babies. Welcome to Earth. It's hot in the summer and cold in the winter. It's round and wet and crowded. On the outside, babies, you've got a hundred years here. There's only one rule that I know of, babies—God damn it, you've got to be kind.'"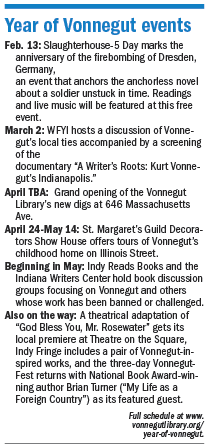 Although I asked about novels, Julia Whitehead, founder and CEO of the Vonnegut Library, opted for "Welcome to the Monkey House," Vonnegut's collection of short stories. "You want science fiction? There's science fiction," she said. "You want action? There's action. You want a love story? There's a love story." Her favorite in the collection is "Adam," about a Holocaust survivor sharing the news of the birth of his baby. "It shows Vonnegut's understanding of the human condition and his great ability to break your heart while simultaneously making you feel an extraordinary sense of hope."
As for me, I believe, as do many, that "Slaughterhouse-5" is the strongest. But I don't think it's usually the best idea to start with a writer's strongest book. Where do you go from there? Of course, you still want a worthy introduction. As such, I'd opt for "Galapagos," his apocalyptic 1985 novel about the unexpected next steps in human evolution.
Be warned: If you are the kind of person who wants to fake your way, pretending you read the books but actually only saw the movies, you might regret your decision.
While the film version of "Slaughterhouse-5" is strong and "Who Am I This Time?"—a made-for-TV adaptation of a Vonnegut short story—is charming, there's slim pickings in the rest of his cinematic adaptations. "Slapstick"—renamed "Slapstick of Another Kind"—and "Breakfast of Champions" are particularly cringe-inducing.•
__________
This column appears weekly. Send information on upcoming arts and entertainment events to lharry@ibj.com.
Please enable JavaScript to view this content.