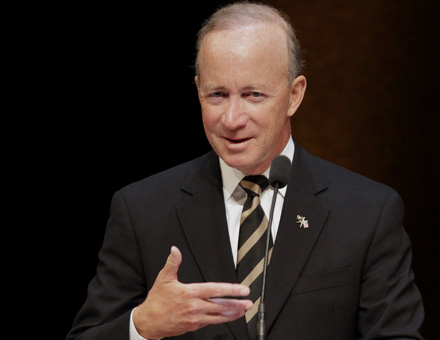 Purdue President Mitch Daniels on Sunday sharply criticized Donald Trump for his executive order imposing an entry ban on refugees and citizens of seven Muslim-majority nations.
 "The president's order related to immigration is a bad idea, poorly implemented, and I hope that he will promptly revoke and rethink it," Daniels said in a statement released by the university. "If the idea is to strengthen the protection of Americans against terrorism, there are many far better ways to achieve it."
Daniels, a Republican who served two terms as Indiana governor, joins a chorus of leaders from around the world who have criticized Trump for the executive order he issued Friday. While some Republicans have been supportive—House Speaker Paul Ryan, for instance, said "President Trump is right to make sure we are doing everything possible to know exactly who is entering our country"—the sentiment outside the United States has been largely negative, save for comments by Europe's far right.
In the wake of the order, Indiana University on Saturday strongly recommended that its students from the seven affected nations—Iran, Iraq, Libya, Somalia, Sudan, Syria and Yemen—not travel outside the United States at this time.
Late Sunday afternoon Indiana University President Michael McRobbie issued a statement urging the Trump administration "to end this executive order … as quickly as possible."
He called the order "contrary to the very core of our values as an institution committed to excellence and innovation, a diversity of community and ideas, respect for the dignity of others and engagement in the economic, civic, cultural and social development of our state, our nation and our world."
David Zaret, IU's vice president for international affairs, said in an email to administrators Saturday that "the order is causing significant distress among many international students and visiting scholars at IU, and we understand that additional executive and regulatory action concerning visa and immigration matters is forthcoming."
In the email, which was obtained by the South Bend Tribune, Zaret added: "Your efforts to be particularly sensitive to these concerns and the fear and anxiety being felt by many during these times of uncertainty is most appreciated."
In its statement Sunday, Purdue said that about 100 of its 40,000 students are from the countries named in the order and hold non-immigrant visas. Another 10 faculty are citizens of those countries.
Purdue said it is not aware of any of its students, staff or faculty who have been left stranded outside the United States but that "the university remains concerned for them and their families as the result of this order."
The university cautioned students, staff and faculty who might be affected not to leave the United States until the Departments of State and Homeland Security issue new guidelines.
Leaders of Britain and Germany joined other American allies in criticizing Trump's entry ban, even as some far-right politicians expressed hope the move would inspire similar measures in Europe.
British Prime Minister Theresa May does "not agree" with Trump's order and will challenge the U.S. government if it has an adverse effect on British nationals, a spokesman said.
Her main political rival, Labour Party leader Jeremy Corbyn, called for Trump to be banned from visiting Britain until the temporary travel restrictions are rescinded.
A petition on the British Parliament's website attracted hundreds of thousands of signatures backing its call for Trump, who has been invited to meet Queen Elizabeth II, to be barred on the basis of misogyny and vulgarity.
German Chancellor Angela Merkel, who has drawn fire for her government's welcoming refugee policies, also regretted the ban.
Merkel raised the issue during a phone call with Trump Saturday, citing the 1951 Geneva Refugee Convention that calls on signatories to take in people fleeing war, spokesman Steffen Seibert said.
"She is convinced that even the necessary, resolute fight against terrorism doesn't justify putting people of a particular origin or particular faith under general suspicion," Seibert said.
He said Germany's government "will now examine what consequences the U.S. government's measures have for German citizens with dual citizenship and, if necessary, represent their interests toward our American partners."
Trump's order includes a 90-day ban on travel to the United States by citizens of the seven countries, as well as a 120-day suspension of the U.S. refugee program.
Influential Iraqi cleric Muqtada al-Sadr reacted by suggesting all Americans should be forced out of Iraq in retaliation, according to a statement from his office.
The European Union's foreign policy chief, Federica Mogherini, also was sharp in her criticism of Trump's move.
"All men are first and foremost human beings, with their inalienable rights," Mogherini wrote in a blog post. She added: "It feels so strange that we need to restate this, just days after Holocaust Remembrance Day."
In contrast, nationalist and far-right groups in Europe applauded the restrictions and said they should be used a model for the continent.
The Dutch anti-Islam populist Geert Wilders said in a tweet: "Well done @POTUS it's the only way to stay safe + free. I would do the same. Hope you'll add more Islamic countries like Saudi Arabia soon."
The far-right National Democratic Party in Germany celebrated "the massive restriction on the entry of pseudo-refugees and Muslims to the USA."
Please enable JavaScript to view this content.