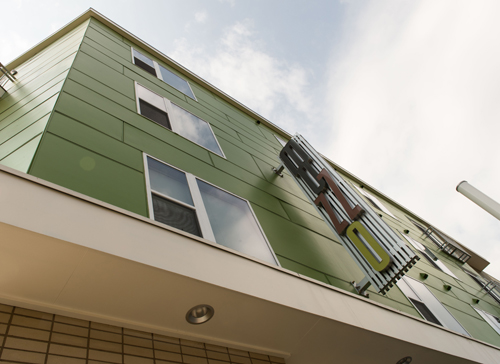 Indianapolis-based developer Milhaus has put a massive package of multifamily properties on the market that could sell for an estimated $450 million.
The 12-property portfolio features seven apartment complexes in Indianapolis—including high-profile downtown developments Artistry and Circa.
Altogether, the package includes 2,195 apartment units in six markets that have all been developed and built by Milhaus since 2013, according to the Indianapolis office of real estate firm CBRE Group, which announced Thursday that it is marketing the portfolio. The properties also include 114,441 square feet of commercial space.
The package contains all three phases of Artistry, an immense apartment, retail and office complex surrounded by Market, New Jersey, Washington and East streets.
The first phase, Artistry, contains 258 residential units and more than 68,000 square feet of office space. The second phase, Mentor & Muse, has 242 apartment units, and the third, Mosaic at Artistry, has 54 units. Mosaic is still under construction.
Circa, at 617 N. College Ave. in the Chatham-Arch Historic District, has 265 units.
Other local properties in the package are 747 Apartments (36 units) at 747 N. College, Mozzo (65 units) at 531 Virginia Ave., and Pinnex (77 units) at 931 Fletcher Ave.
Other properties in the portfolio:
— Highland Row (354 units) in Memphis, Tenn.;
— Stitchweld (291 units) in Milwaukee;
— Gantry (131 units) in Cincinnati;
— Lift (329 units) in Oklahoma City; and
— Amp Apartments (93 units) in Louisville.
Real estate experts say multifamily property investment is especially strong right now because of steady rent growth and low vacancy rates. Secondary markets have been driving a recent increases in activity.
"This portfolio spans a broad range of dynamic submarkets in metros that are still emerging," said Steve LaMotte, a senior vice president in CBRE's Indianapolis office, in a written statement. "The Urban Core Portfolio is a rare opportunity to deploy a critical mass of capital in newly constructed, best-of-class assets."
LaMotte is marketing the portfolio along with CBRE first vice president Dane Wilson.
All of the properties are managed by Milhaus, which focuses on urban multifamily development in Tier II cities in the Midwest, the Carolinas and Florida.
Milhaus CEO Tadd Miller said the company would use "proceeds from this transaction to further Milhaus' growth."
CBRE did not disclose an asking price, but real estate sources estimated the market value at roughly $450 million.
Please enable JavaScript to view this content.