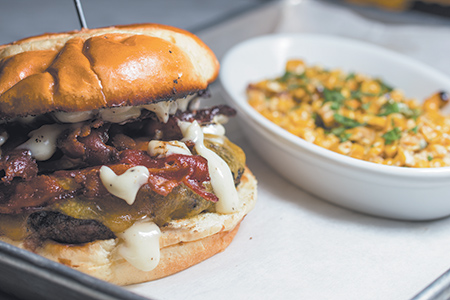 Making a restaurant succeed anywhere is a challenge. Trying to make it work in the retail hub of the Village of West Clay has proven to be an even greater one. Without drive-by traffic—and with an inevitable sense of clubbiness—attracting customers from outside the expansive community has proven difficult. And with a finite supply of residents, returning customers are a must.
The latest to set up shop in the spot formerly occupied by Pizzology, Pamfilio's and Belleria is The Lit Moose (12819 E. New Market St., Carmel), which takes a more whimsical approach—at least in decor—than its predecessors. Yes, there's a moose head on the wall, fully lit up, along with portraits of other animals with their eyes covered by rectangles as if needing to stay anonymous.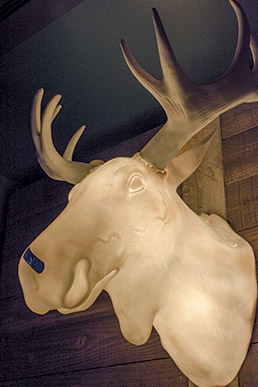 The lit moose. (IBJ photo/Eric Learned)
The focus here is on upscale bar food—tacos, burgers, flatbreads, etc.—but your experience might depend in part on whether you opt for the dining room or the bar area. In practice, The Lit Moose feels like two restaurants, with the bar zone separated from the family dining area by a wall that would make Donald Trump envious. On our visit, the bar seemed lively but the dining area was empty sans my party. That being the case, service was appropriately attentive and the gentleman at the host stand cheery and chatty.
We started with Short Rib Nachos ($12) with chips spread across a longer-than-usual pan, offering an improved chance of toppings making contact with carriers. The braised short rib wasn't exactly heaped on, but it wasn't skimpy, either, and the avocado, street corn queso, black beans and pico de gallo rounded it out effectively. Soups rotate based on ingredient availability and we were pleased to find the Garlic Creamy Tomato ($4/$5), which wasn't sold as spicy but had bite nonetheless.
The Flat Iron Steak Frites ($15) featured an espresso-infused steak that would have been more satisfying had it not overplayed its balsamic marinade. No complaint, though, about the truffle fries with a shallot mustard sauce. Four bowl offerings add variety to the entree list. I opted for the Shrimp Pappardelle Bowl ($16), which proved an ample but unexciting mix of shrimp, chunks of pancetta, calabrese peppers, steamed English peas and chopped parsley.
The highlight of the meal was the Lit Moose Burger ($12), which justified its price by taking a ground patty of Saskatchewan Elk loin and topping it with caramelized onions, honey-smoked bacon ends, Tillamook cheddar and roasted garlic aioli. An extra $4 partners it with a sidecar of Canadian Club. Rarely do I praise a burger with this many toppings—especially one that doesn't allow access to every layer in one bite. But I'd happily hunt down this one again the next time I opt to explore deep in the heart of West Clay.•
Please enable JavaScript to view this content.