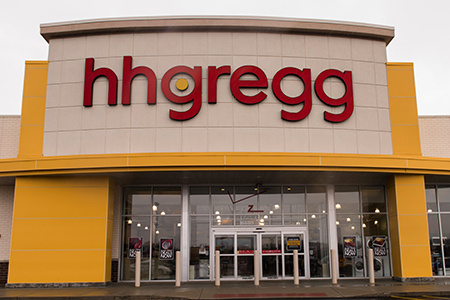 HHGregg Inc., buffeted by weak sales during the crucial Christmas season, said Friday morning that it is cutting about 100 jobs—including 70 at its East 96th Street headquarters—as part of a restructuring that will save $15 million a year.
In an emailed statement, CEO Robert Riesbeck said that "in light of our recent Q3 earnings release, we have made the difficult decision to restructure our field and corporate workforce. While decisions like this are never easy, we are taking the necessary steps to preserve and grow our business during the continued challenging retail environment."
The cuts represent less than 3 percent of HHGregg's more than 5,000 employees.
HHGregg launched the austerity moves after reporting sales for the fiscal third quarter, which ended Dec. 31, of $453 million, down nearly 24 percent from the same quarter a year earlier. 
The company attributed the weakness to a variety of factors, including problems at a new distribution center and competitive pressures in consumer electronics.
In Friday's statement, Riesbeck said: "The organizational changes implemented today will streamline our company infrastructure and allow us to reallocate resources to align more closely with our company goals. We are dedicated to enhancing our customers' experience both in-store and online, and to delivering superior value for our customers and stakeholders."
HHGregg's stock tumbled 40 percent on Jan. 9, the day the company announced preliminary third quarter results, and has yet to recover. The stock was trading at 58 cents at midday Friday, down less than a penny.
HHGregg operates 220 appliance, electronics and furniture stores in 19 states.
Please enable JavaScript to view this content.