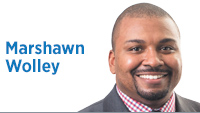 Indy is on the precipice of a healing civic revival.
A new friend of mine, Rabbi Sandy Sasso, recently reminded me that "our responsibility is to act in the present and in the place where we find ourselves." Indy residents are acting.
Not really known as a city that makes a lot of civic noise, there has been quite a bit of commotion going on recently—and I think it is about time.
I've written previously about black millennials and their dissatisfaction over the last election cycle. But just a couple of weeks ago, more than two dozen of us, at the invitation of The Exchange at the Indianapolis Urban League, were prowling the Indiana General Assembly trying to "friend-raise."
Sasso, who was part of a little get-together on the north side with about 500 of her closest friends late last year, is beginning plans for a coming civility campaign.
Christ Church Cathedral set up shop on Monument Circle so it could affirm that we all belong.
The Muslim Alliance of Indiana is hosting town hall meetings to help members of the community connect to legal services.
The ACLU of Indiana is seeing exponential growth in community meeting attendance.
The Immigrant Welcome Center is working with multiple stakeholders, including the city, on enhancing how we welcome our neighbors to Indianapolis.
Also, did you know we are protesting at airports now?
Indy's civic culture has awakened.
Honestly, I think we are in part trying to figure out how to love one another. Mali Jeffers, former project manager for Love Indy, put it this way: "To be loved by Indy is to be requested versus tolerated." She went on to say, "To be loved in a city is just like being loved in a relationship; you have to feel needed and that message has to be repeated and felt to the core on a daily basis."
The first few weeks of the Trump presidency have challenged Indy residents to wrestle with the idea of people being "tolerated" but not loved in our city.
While I remain mindful of my friends who are thrilled to see government moving at the speed of business and relish the idea of disrupting bureaucratic complacency, I don't see why we can't get along.
I want Indy to be a big city. A city that can embrace the tensions inherent in our times where one can hear simultaneous calls for disruption and resistance in our politics from people with very different worldviews about what should be. My friend David Sklar, at the Jewish Community Relations Council, says, "We are fighting over political norms."
The stakes of the battle are high.
The question is, what will be different after this epoch? Will we be closer to a beloved community where we can negotiate differences? Will all this frenetic activity lead to our reimagining citizenship? Can we leverage this energy to advance socioeconomic inequities? I also wonder if this is what folks felt like during the emergence of the tea party during the Obama era.
Indy is experiencing a heightened level of civic engagement and interest in the future.
Folks are looking for marching orders. If you want to know how to plug in beyond talking to your legislator, check out the organizations I just mentioned.
During these times of controversy, it is good to see the city civically reviving itself.•
__________
Wolley is a lecturer at the School of Public and Environmental Affairs at IUPUI.Send comments to [email protected]
Please enable JavaScript to view this content.