Chief Operating Officer
Center for Health Innovation and Implementation Science at the Indiana University School of Medicine
Whether working to speed up the discovery-to-implementation pipeline for life-changing medication or scaling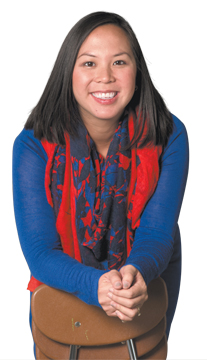 up new models of care, Adams leads a team striving to make a real difference to her patients. During her tenure, $2 million in seed funding grew to approximately $60 million to support the center's growth and activities.
Age: 31
Birthplace/hometown: Fort Wayne
Family: Husband, Mark; children, Ila, 2, and a baby due this month
Education: bachelor's in public health, Indiana University; master's in health care administration, IUPUI
Years with organization: 2-1/2
Getting here: Inspired in part by her brother—who was born with the umbilical cord wrapped around his neck, causing severe brain damage—Adams has focused much of her career on patient care. Her work involves efforts to transform health care by building strong connections between academia and health care.
Inspiration: "Hearing stories from other patients and families with loved ones that have been impacted negatively by our health care system, as well as hearing stories from health care professionals and seeing firsthand their passion, drive and dedication to improve our health care system," Adams said.
Firsts: Adams led a team that created the first Certificate in Innovation and Implementation Science in the nation to develop a new health care workforce aimed at increasing the evidence-based practices that are implemented into routine health care services. The workforce focuses on innovation and sustaining transformational change. She also helped create the largest network in the nation, with more than 15,500 clinicians enrolled across Indiana, Illinois, Michigan, Ohio and Kentucky.
Givebacks: Adams served on the board of ARC of Indiana.
Impactful music: "I really like the song 'Alexander Hamilton,'" she said (although she has yet to see the hit musical live). "It reminds me that any individual can accomplish whatever they put their heart and soul into no matter where they came from or the circumstances they've been faced with."
Favorite place in central Indiana: "I am a foodie and I love trying out new locally owned and operated restaurants." High on her list are Rene's Bakery, Duos, Three Carrots and Mimi Blue Meatballs.•
Please enable JavaScript to view this content.