CEO and Founder
Doxly Inc.
After becoming an equity partner at Ice Miller, Altman made a bold move. "I saw an opportunity to make it easier for my fellow lawyers to do their jobs,"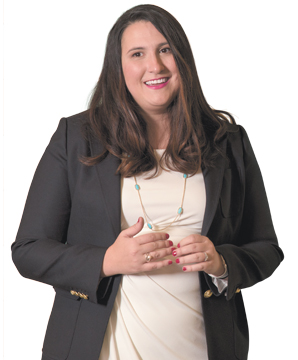 she said. The result: Doxly, which provides tools to collect and manage all documents in a centralized data room. It's part of the High Alpha portfolio.
Age: 36
Birthplace/hometown: Born in Phoenix, followed by time in Houston, "but Indianapolis is my hometown."
Family: husband, Daniel; children, Kennedy, 5, and Madison, 2
Education: bachelor's in chemistry and political science, DePauw University; law degree, Indiana University Robert H. McKinney School of Law
Years with company: 1
Getting here: After graduating from law school, Altman joined Ice Miller as a corporate associate. Then, thanks in part to her science background, she was recruited to join law firm Wilson Sonsini Goodrich & Rosati in Palo Alto, California, where she worked on "a high volume of venture capital transactions," she said. "I brought those skills back to the Midwest to have a family and start the next stage of my career." Rejoining Ice Miller, she made partner and co-led the firm's venture capital practice, before leaving to launch Doxly a year ago.
On making the leap: "I loved my job. I loved being a lawyer and practicing law," Altman said. "But I kept finding myself thinking more and more about what we could do with the business, realizing I was always going to be a lawyer but here was this opportunity to create something that could improve the lives of people in my industry."
Major company achievements during her tenure: "In July, we launched the business. By September, we had launched the product with our first paying customer and secured a $2.3 million financing round from a group of incredible investors."
Givebacks: Altman serves on the Venture Club of Indiana board and on the Advisory Committee for the Central Indiana Women's Business Center. She's also involved with the Leukemia and Lymphoma Society. "I love being a part of organizations devoted to helping people grow and find their way in the business world," she said.
Impactful film: "Good Will Hunting" resonates with her. "It doesn't matter where you come from or what your background is, you can achieve things."
Favorite place in central Indiana: "My seat in the upper deck of the RCA Dome when the Colts came back to beat the Patriots for the 2006 AFC Championship."•
Please enable JavaScript to view this content.