Vice President of Basketball Operations
Pacers Sports & Entertainment
After working his way up through the Pacers organization, Dinwiddie knows the game inside and out.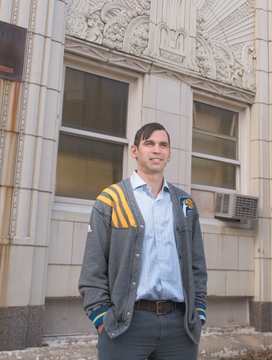 Age: 39
Birthplace/hometown: Indianapolis
Family: wife, Jessica; children, Houston, 8; Michael, 6; Lou, 4; and Ruth Ann, 2
Education: bachelor's in public policy, Indiana University; law degree, New England School of Law. As an undergraduate, Dinwiddie was doing research on sports executives in different front offices. "A lot of the execs didn't have backgrounds in sports," he noted. "But they had law degrees. I decided that I wanted to go to law school and try to use that to get into the sports industry."
Years with company: 11
Getting here: Dinwiddie worked as a contract attorney for Finish Line before joining the Pacers, first as an account executive (leading his department in ticket sales), then as a group event specialist, group sales manager, director/basketball administration and, in 2012, as vice president of basketball operations.
Transitional professional moment: "Being fortunate enough to have Donnie [Walsh] mentor me while I was attempting to transition from the business side of the operation to the basketball side."
On consistency: The Pacers have the longest-tenured ownership in the NBA. During Dinwiddie's time there, Walsh, Larry Bird, or both, have always been there. "That's been the real reason we've had some success … to have that continuity and stability overseeing the operation gives us one of the top cultures in all of sports."
The goal: "Our goal every year is to win … put a team together that's going to win games and represent in a positive manner. It impacts the bottom line if the product isn't as good as we think it can be."
On the alleged off-season: "That's really our busiest time," he said. "It's the most stressful time. We're trying to retool the team, to fix the holes we've identified. … Off-season is when a lot of those moves occur."
Major company achievements: "Reaching the Eastern Conference Finals during the 2012-2013 and 2013-2014 seasons and winning the Central Division in 2013 and 2014."
Recent business challenge faced: "Due to the league's new media deal which began this season, the league's salary cap increased by $24 million, so, as a small-market franchise, Larry had to determine how to build a playoff team while maintaining an overall player payroll which did not exceed the league's salary-cap threshold," Dinwiddie said. "I was able to strategize with Larry and Kevin [Pritchard], and we decided to be aggressive in the trade market as a means to build a roster we believe will make the playoffs while also not exceeding our internal payroll budget."•
Please enable JavaScript to view this content.