Chief Policy Officer
Indy Chamber
As one of the key connectors in the city, Fisher is an instrumental player in bringing together businesses and other organizations to impact quality of life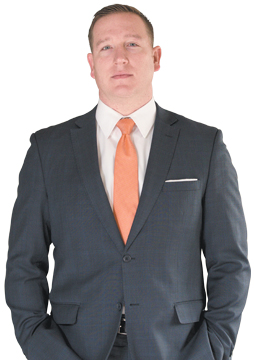 in Indianapolis.
Age: 37
Birthplace/hometown: Bloomington
Family: wife, Melissa; children, Patrick, 8; Liam, 6; Owen, 3; and infant Isla
Education: bachelor's in sociology, Indiana University; certificate in nonprofit management, IUPUI's School of Public and Environmental Affairs
Years with organization: 12 (including with Develop Indy)
Getting here: After graduating from IU a semester early, Fisher traveled to Ireland with a backpack and a work visa. He worked restaurant jobs and played rugby. "It was right after 9/11, the job market was unpredictable, and so I rewarded myself with a little junket." When he returned, his parents had moved to Indy. When he dined at Rock Bottom, he filled out an application and ended up working there while he attended SPEA. Internships with chamber programs led to full-time employment with a number of job and title changes up to senior manager and director of government relations and policy development. He left to work with The Hagerman Group, then was recruited to Develop Indy by Deputy Mayor for Economic Development Michael Huber, rising to president of that organization before its merger with Indy Chamber.
Inspirational professional moment: Fisher points to how the business community "pulled together in the wake of RFRA to quickly amend the law and then pivot to a very positive 'Indy welcomes all' message ahead of the Final Four." He also said "working with a broad, diverse coalition of community partners to pass the transit referendum is a true inspiration to demonstrate what can be done if we are able to put differences aside and work together to make our community a better place."
On political empowerment: "I'm best at my job when I empower our members to take action on their own behalf. People get disillusioned with what happens in the federal government, but they don't realize how much of their life is impacted at the state and local level and how easy it is to effect change by picking up the phone, sending an email, and participating in organizations."
Givebacks: Fisher serves on the boards of IndyGo, LISC and Midtown Indy. "I am very passionate about making our city a better place."
Favorite place in central Indiana: "Somewhere between 200 East and 200 West Washington Street," the area between the City-County Building and the Statehouse.•
Please enable JavaScript to view this content.