Partner
Faegre Baker Daniels LLP
As board member for KIPP Indy Public Schools and through his work with Teach for America, Garrison has demonstrated an ongoing commitment to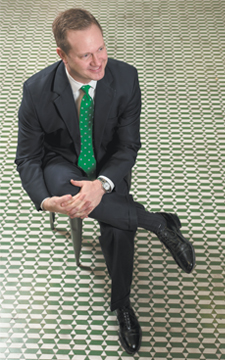 equity in education.
Age: 38
Birthplace/hometown: Naperville, Illinois/Chillicothe, Illinois
Family: wife, Christi; children, Harper, 5; Dylan, 2; and infant Charlotte
Education: bachelor's in history, DePauw University; law degree, University of Illinois College of Law
Years with company: 11
Getting here: After college, Garrison signed with Teach for America, spending nearly two years working in Chicago schools. "I think it started to form at a young age," Garrison said of his interest in education. "My father and mother met while teaching in the Chicago suburbs." They also were involved with the civil rights movement in the 1960s and Garrison's work in schools inspired him to get his law degree as he sought "an opportunity to make an impact to address the inequalities in our education system." After clerking in the U.S. District Court for the Central District of Illinois, he parlayed a summer clerkship at then-Baker & Daniels into a full-time position, leading to partnership.
Why labor and employment law: "I grew up around Peoria at a time when a very divisive strike was going on at the Caterpillar plants. I saw that labor strike at a young age and was always fascinated by the way it took root in our community. … When starting at the firm, I realized being a labor lawyer means communicating with lots of different people and organizations. I had experience with that as a teacher."
Mentor: "I have been fortunate to work with several partners in my practice group—John Neighbours, Mitzi Martin, Hud Pfeiffer and Greg Utken, to name a few—who I consider mentors. Each of them generously invested time and resources in training and counseling me and selflessly afforded me significant first-chair experiences and client-relationship responsibilities. John Neighbours, in particular, has been an outstanding example of how to make a meaningful impact in our community while also balancing a busy work schedule and personal life."
Givebacks: A Penrod Society member, Garrison serves on the board of United Way of Central Indiana after leading his internal firm campaign for two years. He served on the Teach for America Indianapolis Regional Advisory Board and Regional Alumni Board and has been chairman of the KIPP Indy Public Schools board since 2013. "Look at cities across the nation where there is a vibrant movement to create educational equity and you'll see there's a vibrant KIPP network in each of those."
Hobbies: "I have been an avid fan of the Chicago Cubs since I first set foot in Wrigley Field as a boy. Needless to say, this year's fall classic was a joyous time in our house."•
Please enable JavaScript to view this content.