Director of Executive Communications
Cummins Inc.
After a career primarily in government, Judkins in 2015 joined Cummins, helping amplify the company's voice in matters of technical innovation,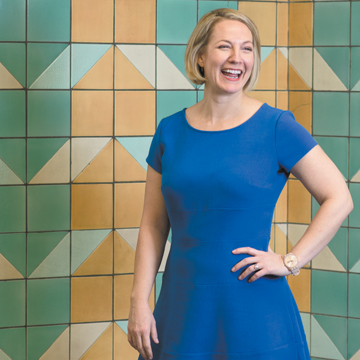 international trade, community involvement and equal rights as it works to raise its profile in Indianapolis, where it recently opened its high-profile distribution headquarters.
Age: 39
Birthplace/hometown: Valparaiso
Family: husband, Brandon; children, Metta, 10; and William, 8
Education: bachelor's in psychology, Indiana University; law degree, Indiana University Maurer School of Law
Years with company: 2
Getting here: Out of law school, Judkins' first job was assistant corporation counsel for the city of Indianapolis. "They give you a stack of cases and say, 'Go figure it out.'" She soon found herself in a jury trial involving a police shooting. "I took it very seriously," she said. The job led to associate work with Locke Reynolds (now Frost Brown Todd), then as a consultant with the Marion County Election Board during the 2008 election. She was soon director of elections. (One notable challenge: getting 3,000 people to work on Election Day "and crossing your fingers, hoping they show up.") She moved on to chief counsel for the Marion County Prosecutor's Office before going to Cummins.
Inspirational moment: "I was incredibly inspired by the 2008 presidential election, and was honored to participate in the process to facilitate voting in Marion County."
On internal communication: "Leading communications for the executives of a global corporation requires you to dive into multiple subjects on a daily basis and connect with people across the world," Judkins said. "With today's technology, it's much easier to reach all of our external stakeholders and our 55,000 employees, even though they're in 190 countries and multiple time zones. But the messages have to be meaningful and engaging and provide all our employees with the information and motivation they need to do their job well and satisfy all our stakeholders."
Givebacks: Presently on the Workforce Investment Board of EmployIndy and a member of the Educational Champions Series of The Mind Trust, Judkins also has served on a range of boards, including Growing Places Indy, Exodus Refugee Immigration and the Creative Arts Legal League.
Downtime: Swimming laps. "I married a college swimmer and he taught me how to properly swim laps for fitness. It's one of the greatest gifts he's ever given me."•
Please enable JavaScript to view this content.