President and CEO
Ascend Indiana
A former award-winning teacher, Kloth has gone beyond the classroom to work for improving education around the state.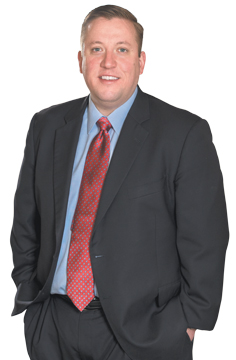 Age: 36
Birthplace/hometown: Champaign, Illinois
Family: wife, Ronni; children, Coretta, 2; and infant Thaddeus
Education: bachelor's in history, University of Illinois
Years with organization: 2
Getting here: After being named Teacher of the Year for his work with sixth-graders in the Rio Grande Valley, Kloth established the Indianapolis office of Teach for America, where he served as senior vice president of public affairs. Under Mayor Greg Ballard, he became deputy mayor of education. With the Central Indiana Workforce Development Initiative, he connects employers to workers and helps workers find self-sustaining career paths.
Major achievements: Kloth conceived and guided the passage of the Indianapolis Preschool Scholarship Program, a $50 million public-private partnership. He grew the city of Indianapolis Office of Education Innovation's portfolio of charter schools from 22 to 39. And he launched Ascend Indiana with $7 million in initial investment.
Recent challenge faced: The 16 months leading up to the launch of Ascend Indiana, which included "understanding the challenges facing central Indiana's labor market and their underlying causes; soliciting input from community partners and key stakeholders; setting forth a clear vision, priorities and goals; building a board of directors and core leadership team; and securing the necessary financial resources to achieve our collective vision."
The Ascend approach: The key steps, according to Kloth, involve understanding what employers need, identifying and connecting workers with institutions to place people in jobs and creating new pipelines when supply and demand don't align—such as helping create a nursing program when nurses are in short supply.
Givebacks: Kloth serves on the boards of the United Negro College Fund and the Oaks Academy. Past involvements include Teach for America, United Way's Public Policy Committee, and Early Learning Indiana.
Impactful songs: "Music is a central part of my life. Different pieces of music have influenced me in different ways at different stages of my life," he said. Among those: The Chi-lites' "Oh Girl," which makes him think of the conviction he feels for his wife; The Cure's "Just Like Heaven," which reminds him of music from his childhood; and J. Cole's "Love Yourz," "which reflects my love of hip-hop and what is ultimately important in life."
Hobbies: Visiting National Parks. "I've been to 38. I need to get to seven more." For him, their grandeur is a reminder that "a lot of the things we worry about are not that important."•
Please enable JavaScript to view this content.