Vice President of Production
Raidious
Lile, creator of the pioneering music site My Old Kentucky Blog, is also a partner in recently expanded music venue The Hi-Fi and prolific concert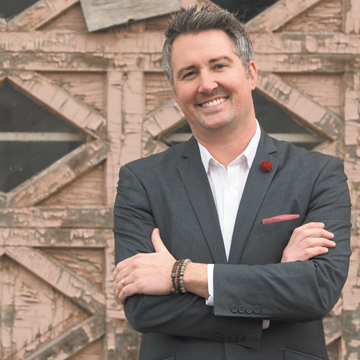 producer MOKB Presents.
Age: 39
Birthplace/hometown: Louisville
Family: wife, Micki; children, Lucy, 10, and Kellen, 6
Education: bachelor's in graphic design, University of Evansville
Years with companies: 6 with Raidious, 4 with The Hi-Fi, 8 with MOKB
Getting here: Lile's eclectic career includes time designing Yellow Pages ads, creating websites, and serving as e-commerce marketing manager for HHGregg. "It helped me make the decision that I didn't want to do that for the rest of my life." Around that time, he started My Old Kentucky Blog, which, at first, was "just cathartic—a way to keep my head in something else while I was going through some personal struggles." Suddenly, he found his music posts attracting as many as 6,000 visitors a day. "I became obsessed," he said.
Major achievements for his companies: The recent signing of Mint and Lids as clients at Raidious, MOKB's growing from 12 shows a year to over 350, and The Hi-Fi's doubling in size.
the flood of musicians seeking his attention: "My email account says I have 84,117 unread messages." He said he filters out anything mass-mailed. "I pay more attention when it comes from the artist."
Setting the vision: "When I'm at my best," Lile said, "I am a facilitator of change and improvement for whomever I'm working for and working with. For my agency, I often find the opportunities, set the plan in motion, and then let the really smart people make the argument that wins the business. It has often been that way with MOKB Presents and The Hi-Fi."
Givebacks: Lile just wrapped up a term on the Kurt Vonnegut Library board of directors and is active on the Benjamin Harrison Presidential Site's Wicket World of Croquet board.
Impactful songs: "As a Louisville native, I love the bands My Morning Jacket and Houndmouth. So 'One Big Holiday' by MMJ and 'Casino Boat' by Handmouth are a couple of faves. The band I'm most credited with 'breaking' is Justin Vernon's Bon Ever, so 'Skinny Love' and 'Flame' are songs that I've had a deep emotional attachment to."
Downtime: "I block out time to go to the pottery studio and just throw pots and be artistic," said Lile, who minored in ceramics. After a 15-year break, taking a class with his daughter at Herron resparked his love for the medium.•
Please enable JavaScript to view this content.