Director, Department of Business and Neighborhood Services
City of Indianapolis
Helping create the Super Bowl Village, managing restoration of the Soldiers & Sailors Monument, and organizing the Brewers of Indiana Guild's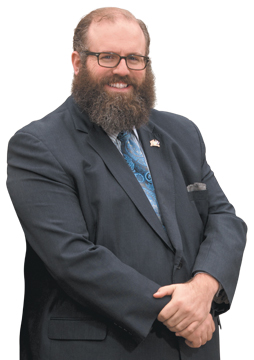 Microbrewers Festival were just a few of Larrison's achievements before he became a key player in the Hogsett cabinet, where he now directs the city's permitting, licensing and inspection functions.
Age: 39
Birthplace/hometown: Columbus, which he proudly called "the Midwest mecca of modern architecture"
Family: children, Jacob, 10, and Evalee, 7
Education: bachelor's in architecture and environmental design, Ball State University
Years with organization: 1
Getting here: With an interest in architecture traceable to early childhood (when he designed a place for his great aunt using Monopoly houses and hotels), Larrison interned with design firms including Ratio Architects. After meeting an architect at a job fair who worked in government, he realized he could combine his vocation with his interest in politics. As assistant state architect for Indiana, he guided the restoration of the Soldiers & Sailors Monument. The timeline, he said, was strict. To have the Victory statue on top "missing for the Super Bowl was not acceptable." He became more involved with the Super Bowl as Indianapolis' administrator of construction services, which included ensuring compliance of about 500,000 square feet of temporary space. "When all was said and done, the NFL contractors said this was the easiest jurisdiction and location to work with." A stint as state architect followed, then a call to join the Hogsett administration.
Major achievements: Consolidated the Department of Code Enforcement and Indianapolis Animal Care and Control into the Department of Business and Neighborhood Services. "BNS is the lead agency in the mayor's vacant and abandoned housing initiative through inspections of suspect properties, creation of an inventory, pursuit of blight legal cases, demolition of unsafe buildings, and creation of a market value analysis report for guiding policy."
Givebacks: Larrison is a member of the State Historic Preservation Commission and sits on the executive and programming committees of the American Institute of Architects. He is also involved with Friends of Irving Circle, Historic Irvington Community Council, and the Irvington Halloween Festival Committee.
Hobbies: He enjoys playing board games with his kids (Ticket to Ride and Settlers of Catan are currently big), hiking and running. "Like all architects, I sketch and doodle."•
Please enable JavaScript to view this content.