Principal
Centerfield Capital Partners
Margetts joined Centerfield in 2007—which has invested in more than 40 companies—near the end of its first fund and during the launch of its second.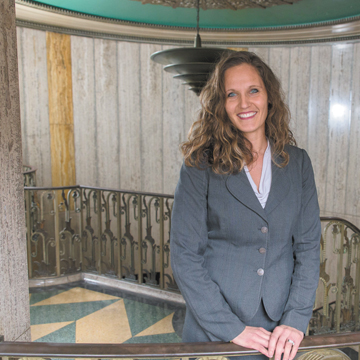 It's now on its fourth, "and with each new fund, the firm's size and investor base has grown," Margetts said. "We are proud to have generated strong returns to our investors and have achieved top-quartile fund rankings."
Age: 39
Birthplace/hometown: Spirit Lake, Iowa
Family: husband, Michael; children, Tyler, 18; Elijah, 16; and Ashley, 14
Education: bachelor's in chemical engineering, Massachusetts Institute of Technology (where she played volleyball); MBA in finance, Indiana University Kelley School of Business
Years with company: 10
Getting here: While an MIT undergrad, Margetts trained as a nuclear reactor operator at a research reactor on campus. After graduating, she worked as a process engineer for ETEX Corp., a Cambridge-based medical device company and manufacturer of injectable bone-repair and regeneration products. When her husband was hired by Rolls-Royce, the family moved to Indianapolis and she entered the Kelley School of Business MBA program. She worked as a business analyst for Carmel-based MISO before joining Centerfield full time.
Transitional business moment: Margetts learned about Centerfield when co-founder Tom Hiatt came to her MBA class. She was wowed and introduced herself and later expressed interest when an internship at Centerfield became available. Hiatt recalled her networking move and she was selected. After a few months, she was hired.
The odds: "We look at around 1,000 transactions per year and invest in about three to five."
Givebacks: Margetts serves as treasurer of the Indianapolis Symphony Orchestra Foundation. She and her husband run the boys volleyball program at Brownsburg High School, which they founded in 2013 so their sons would have the opportunity to play. They took the team to state within four years, placing second.•
Read more Forty Under 40 profiles.
Please enable JavaScript to view this content.