Theater Manager, Imax Theater at Indiana State Museum
Artistic Director, Indy Film Festival
Mince runs the state's biggest movie house (by screen size) while expanding innovative Indy Film Fest offerings throughout the year.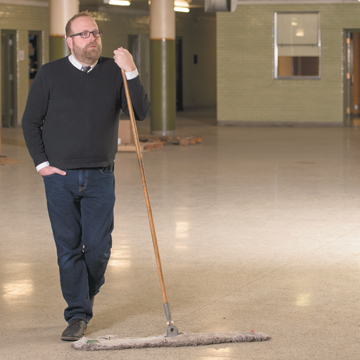 Age: 39
Birthplace/hometown: Kokomo/Carmel
Family: wife, Natalie; daughter, Madeline, 6
Education: bachelor's, Ball State University School of Business
Years with imax: 15
Getting here: "As is the case with most college kids, I graduated from college not knowing what to do with myself," admitted Mince, who went to work as banquet manager for the Hyatt Regency Indianapolis. Not long after, a position opened at the Imax and the lifelong film buff jumped at it. "For my generation, movies are our biggest form of expression," Mince said. The job led to his involvement with the Indy Film Fest, where he became executive director.
Expanding the fest: Mince has led the expansion of the Indy Film Festival to include more movie-related events throughout the year, including Cereal Cinema (kid-friendly flicks that include a breakfast bar), Roving Cinema (site-specific films screened in appropriate locations), Rock + Reel (movies about music), Film to Fork (dinner plus food-focused movies), and Bigger Picture Show (an original movie poster art show). The festival itself has doubled attendance since Mince came on board. After serving as executive director for about five years, he transitioned in January to artistic director.
Inspirational moment: "The moment I realized I could do the job that I wanted to without having to leave Indiana," he said.
achievements: Transitioning the Imax Theater to the digital age with the addition of an Imax digital projection system to the projection booth early in 2016. "With the addition of this digital system, the theater has begun offering more content while still offering the traditional Imax experience," he said. The top-of-the-line, multi-format projection system has allowed the theater to be one of a handful in the country to screen the two most recent "Star Wars" films in their optimal format.
Recent business challenge faced: As competition has increased, "Imax has done a good job of being consistently considered the Cadillac of film exhibition, but the fight for the perceived 'premium experience' has increased. I've been able to focus on the presentation of the films you are seeing while continually upgrading the other amenities that we offer."
Givebacks: In addition to being an Indy Film Fest board member since 2004, Mince is on the boards of Film Indy and the Indiana Space Grant Consortium.•
Please enable JavaScript to view this content.