Founder and CEO
Sells Group
The founder of a fast-growing, Inc. 5000-ranked marketing agency, Sells also spearheads efforts to encourage businesses to give back to communities.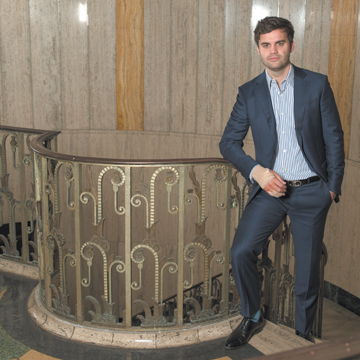 Age: 26
Birthplace: Columbia, Missouri. "Actually, I grew up moving about every two years," said Sells, having lived in L.A., London and elsewhere.
Family: infant daughter, Lucy
Education: Bachelor's in political science, Taylor University. "My dad went to work at Taylor, which is why we moved there. I went to college there to play soccer."
Years with company: 5
Getting here: Sells started selling websites to small manufacturing companies while in college—and hiring classmates to build them. "That started what, today, is Sells Group," he said. Why did his early clients work with him? "We were cheap," he said. "And we were willing to do anything." One client wanted to see its plant on its home page, but wanted it painted before a picture was taken. So Sells gathered students with spray painters to move the equipment and paint the warehouse. The approach led to a "roll up your sleeves" core value for the upstart company. Now, Sells Group has 47 full-time employees and about 50 clients, including Harry & Izzy's, Citizens State Bank, SunCrest Solar and The Lutheran Foundation. Revenue hit $2.3 million in 2015, a figure that doesn't include pass-through money for ad buys and other expenses.
On smart staffing: "We can train skills, but we can't train attitude as easily," Sells said. "We hire smart and talented and experienced people but, in the end, someone really talented but not a good fit isn't productive for the company."
Partnering with the Pacers: In 2016, the company bought naming rights for Sells Group Loft, a new set of 104 private, mini-suite box seats at Bankers Life Fieldhouse. "It was a chance to say, 'We are here,'" said Sells, who, with offices across the street, sees the relationship as both a visibility and client-serving opportunity.
Givebacks: Since 2014, Sells has been executive director for Super Service Challenge, which, with Drew Brees as its spokesman, promotes volunteerism by creating competition among businesses around the country. "If you have people coming together and working together, you can sit next to someone and know a little about who they are and how they are doing. Suddenly, they are building connections and relationships to each other and the company." It's also important, he said, to have employees involved in selecting who is being served.
A future in politics: "At some point, I'd be interested in being involved more directly," said Sells, inspired in part by his involvement with the campaign of Gov. Eric Holcomb and the transition team.•
Please enable JavaScript to view this content.