President
Studio Science
Sinsabaugh has been key in evolving Studio Science from a small, boutique agency to a sought-after design consultant working with such clients as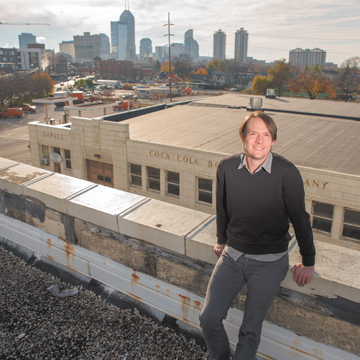 Roche, ClusterTruck and Salesforce. He also manages the company's partnership with High Alpha Venture Studio.
Age: 39
Birthplace/hometown: Cleveland; high school in Noblesville
Family: wife, Carrie; children, Adeleine, 19; Marta, 12; Asher, 10; Gilead, 7; Helen, 5
Education: bachelor's, Herron School of Art & Design. "I spent some time in the fine arts program and made it past my portfolio review," Sinsabaugh said. "But I realized I didn't know what I was going to do with that. So I studied technology at the school of informatics and that's when I turned to design, combining commercial with artistic."
Years with company: 13
Getting here: A stint as junior designer for Dean Johnson Design led to work with Studio Science when it was known as Kristian Andersen + Associates ("I was the associate," Sinsabaugh said). He grew with the company, becoming president in 2015.
Transitional moment: "Just a few months into my job, Kristian Andersen sent me to one of our clients to demo a new web content management system to the whole company. I remember thinking, 'You want me to present to the whole company?' I was terrified, but Kristian didn't think twice about my ability to tackle it. It was a key moment in realizing that I can overcome intimidating obstacles. They usually look pretty small once you're on the other side."
Major achievements: Helping ExactTarget launch its new brand, "after which we became long-standing partners and were alongside them during big moments like the company's IPO and eventual acquisition by Salesforce." And "being founding agency partner for Octiv, Lessonly, Visible and other startups."
Recent business challenge: As president of Studio Science, "learning how to totally trust the team around me. Coming to that realization was the hard part; trusting an amazing team like the one I have at Studio Science is easy."
Givebacks: Sinsabaugh serves on the Iron Yard Employee Advisory Board and is an innovation immersion mentor at Taylor University.
Favorite place in central Indiana: Fountain Square, where he lives. "It's a really tight-knit neighborhood. It's urban enough and very accessible, without the traffic or the crowds that bigger cities have. My family feels comfortable in the city. We can ride our bikes downtown. The Cultural Trail made it work for us—it's no closer to the Circle; it just feels closer now."•
Please enable JavaScript to view this content.