Portfolio Consultant
Charles Schwab Private Client Investment Advisory
At just 30 years old, Viveros is managing the wealth of clients with assets from $1 million to $50 million. He also leads the local chapter of the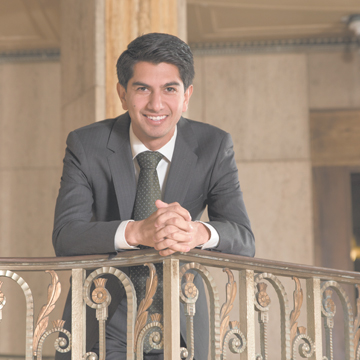 Association of Latino Professionals in Finance and Accounting, where he's leveraging an extensive professional network to help build future leaders.
Age: 30
Birthplace/hometown: Torrance, California
Family: single
Education: bachelor's in personal financial planning and counseling, Purdue University Krannert School of Management
Years with company: 3
Getting here: Starting as a registered representative with Charles Schwab, he left to join Key Private Bank as a wealth associate. A "very junior member of a tenured team of wealth professionals," he was working with clientele on issues related to investment management and comprehensive wealth planning. He was recruited to join Morgan Stanley in its Wealth Associate/Financial Advisor program. Eventually, he found his way back to Charles Schwab in a role focused on managing investment portfolios for wealthy clients.
Inspirational moment: Through work with the Association of Latino Professionals for America, "I discovered that corporate America values diversity (in all its forms—not just ethnicity or gender), and there is a strong business case for owning that in your career. For many of us, that feels organic to our experience but the process of making that part of your personal brand, I think, has been critical to my success."
Ongoing business challenge: He spends much of his time working with clients older than he is. "I've found that your demeanor and professionalism goes a long way. Having the right credentials like the CFP helps build credibility, but showing that you can understand what the client is looking to achieve and execute is most important to building long-term success."
Givebacks: Viveros calls his work as a mentor for Project Stepping Stone of Indiana, which helps Hispanic and Latino high school students prepare for college, "the most important and inspiring work I've ever done." He's a board member for Starfish Initiative and chapter president for the Association of Latino Professionals in Finance and Accounting.
Favorite place: Traders Point Creamery. "I take any non-Hoosier guest there because—to me, a native Angeleno—it is quintessential Indiana."•
Please enable JavaScript to view this content.