Senior Associate Director of Regional Development
Indiana University Foundation
With a varied background in sports and politics, Williams is in the midst of a $2.5 billion campaign to make a difference at IU.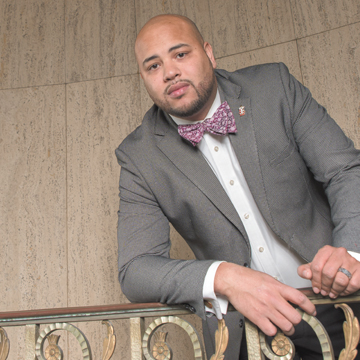 Age: 35
Birthplace/hometown: Indianapolis
Family: wife, Brandi; infant daughter, Harper-Avery, and caring for cousin KeiVon, 6
Education: bachelor's in sports management, master's in sports administration and management, Indiana University
Years with organization: 3
Getting here: Growing up, Williams found confidence playing sports. "I was pretty good," he said, but not good enough for the NFL or NBA. While earning a pair of degrees and working with USA Track & Field and the Black Coaches Association in marketing and business development, he saw the impact sports had on Indianapolis, "and I wanted to continue this legacy." At Learfield Sports' Purdue Sports Properties, he was responsible for corporate sponsorship sales for the athletic department and was promoted to manager of business development. When the economy soured and fundraising became more challenging, he got more involved politically, working in finance and fundraising for Melina Kennedy in her mayoral run and Joe Donnelly in his Senate campaign. Even with the Donnelly win, though, he felt "politics wasn't my strong suit—I didn't watch a lot of C-Span." That's when he connected back with IU.
Major achievements during his tenure: The university is in the middle of a $2.5 billion campaign, and Williams has played a critical role raising money in Washington, D.C. "Outside of Chicago, Washington is one of the school's largest markets, and I have been able to represent the entire university and make inroads for development and fundraising efforts in the area, closing major gifts from alumni there."
Fundraising philosophy: "It's not me trying to sell a project," Williams said. "It's letting the donor determine what they are passionate about and how their money and kindness can align with their passion. That's more meaningful."
Givebacks: "Being a fundraising and development person, I'm one of the first people they want on their board," Williams said. But he's selective. He serves on the board for Keep Indianapolis Beautiful, is secretary for the Indianapolis Alumni Chapter of Kappa Alpha Psi Fraternity, and is on the Indiana Advisory Committee for the U.S. Global Leadership Coalition.
Downtime: "Right now, my favorite hobby is playing with my daughter. I got married this year, had a baby, and renovated a house. … I bit off a big chunk."•
Please enable JavaScript to view this content.