Director of Corporate Audit Services
Eli Lilly and Co.
Leading teams in the Middle East, Europe, South America and East Asia, Wilson has risen through the ranks at Eli Lilly while also serving as board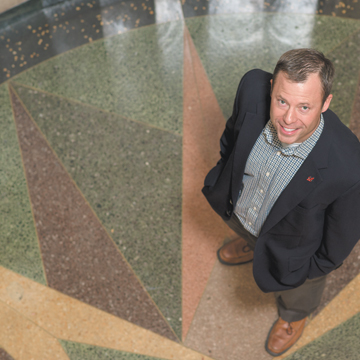 president for a vital United Way agency.
Age: 38
Birthplace/hometown: Huntington
Family: wife, Krissy; children, Josie, 9; Elizabeth, 7; and Henry, 3
Education: bachelor's in finance and accounting, Indiana University Kelley School of Business; MBA, Purdue Krannert School of Management. Also a certified public accountant and certified internal auditor.
On the matter of IU vs. Purdue: Most of Wilson's family went to Purdue, although he remains an IU basketball fan. "Krannert gave me a very different perspective but, when it comes to basketball, I'm still very much cream and crimson."
Years with company: 10
Getting here: Wilson's resume includes stints as senior auditor at Ernst & Young LLP in Chicago and a decade at Eli Lilly, with roles that increased in responsibility—in corporate finance, operations, strategy and audit.
Transitional moment: After a successful five years in Chicago with Ernst & Young, Wilson was accepted into a competitive global rotational program and offered a high-profile role in Europe. "This was a tough decision after working so hard for them in such a competitive process," he recalled. But, ultimately, he and his wife decided on Indianapolis. "This is home for us. There are so many opportunities for us here. I thought that, if we took that trip, it would be harder and harder to come back to Indy."
Stepping into Lilly: His rise through the company, he said, "wasn't all roses. It was a lot of hard work." Wilson started out in the corporate finance department working on, among other things, long-term strategic planning, which he credits for some of his subsequent success.
Major achievements during his tenure: Wilson led the financial analysis of the $12 billion BioMedicines business unit and was selected to a team of high-potential employees to develop solutions to strategic challenges that are now applied by Lilly senior leaders. As a member of Lilly's internal audit management team, he's responsible for a team of 30 professionals, developing talent and improving data-analysis capabilities.
Givebacks: Wilson serves as board president for Social Health Association of Indiana Inc., an agency that serves more than 30,000 children each year throughout Indiana. He's helped guide the group through a budget crisis when the non-renewal of a federal grant affected 25 percent of the budget. Now on an upswing, the agency is experiencing the doubling of major grants and funding over a year ago. Wilson is also treasurer and parish council member at St. Jude Catholic Church.•
Please enable JavaScript to view this content.