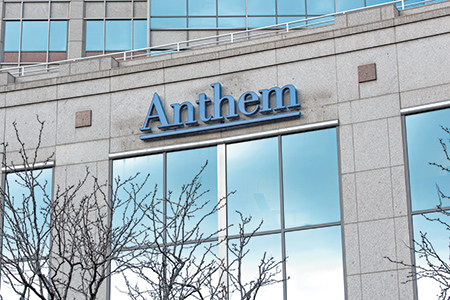 Anthem Inc. on Thursday morning vowed to appeal a federal judge's ruling that blocked its $48 billion purchase of Cigna Corp. on the grounds it would be anticompetitive.
Judge Amy Berman Jackson in Washington late Wednesday quashed the deal, announced in July 2015, concluding it would have violated antitrust laws by reducing competition among insurers.
But in Thursday's press release, Anthem said it "promptly intends to file a notice of appeal and request an expedited hearing."
"Anthem is significantly disappointed by the decision as combining Anthem and Cigna would positively impact the health and well-being of millions of Americans—saving them more than $2 billion in medical costs annually," CEO Joe Swedish said in the release.
"Our decision to acquire Cigna is grounded in our commitment to this goal and to leading our industry during this period of dynamic change. If not overturned, the consequences of the decision are far-reaching and will hurt American consumers by limiting their access to high-quality affordable care, slowing the industry's shift to value-based care and improved outcomes for patients, and restricting innovation, which is critical to meeting the evolving needs of healthcare consumers."
Cigna also issued a statement Thursday morning but it said only that the company "intends to carefully review the opinion and evaluate its options in accordance with the merger agreement."
If the deal is not completed, Anthem could be required to pay Cigna a $1.85 billion breakup fee.
This is the second major health insurance merger derailed by a federal court in recent weeks. A separate judge on Jan. 23 blocked Connecticut-based Aetna Inc. $34 billion tie-up of Louisville-based Humana Inc., concluding it also would be anticompetitive. Aetna and Humana have not decided whether to appeal. If both deals ultimately go through, they would reshape the health insurance landscape—reducing the number of major players from five to three and making Anthem the biggest.
While the Aetna-Humana case primarily focused on the market for private health insurance plans for the elderly, known as Medicare Advantage, the Anthem-Cigna case largely turned on the market for health plans sold to employers. In her 12-page order blocking Anthem's purchase, Judge  Berman Jackson looked at its likely effect on the sale of health insurance to "national accounts"—customers with more than 5,000 employees, usually spread over at least two states—within the 14 states where Anthem operates as the Blue Cross Blue Shield licensee.
"Eliminating this competition from the marketplace would diminish the opportunity for the firms' ideas to be tested and refined, when this is just the sort of innovation the antitrust rules are supposed to foster," Berman Jackson wrote. The judge's accompanying opinion fully detailing her reasons for ruling against the deal was filed under seal.
The 18-month effort to get the deal done was marked by discord between Anthem and Cigna. Last year, the companies accused each other of violating the merger agreement, and the government said in court that disputes among executives had undercut the rationale for the deal.
The hostility could continue. Anthem wouldn't have to pay the breakup fee if it could prove that Cigna committed a "willful breach" of the merger agreement.
Analysts had long expected Berman Jackson to block the Anthem-Cigna deal. As a result, Cigna's stock had been trading far below Anthem's cash-and-stock offer.
If none of the two health insurance mega-mergers happen, all four companies would face a more challenging landscape than they did when they reached their deals just weeks apart in 2015. The Affordable Care Act, which expanded the market for Medicaid health plans and for coverage sold to individuals, is under threat as President Donald Trump and Republicans in Congress are moving to replace the law. While the law hasn't been a big driver of growth for any of the firms, its demise could cut off a source of growth at a time when they're looking for ways to expand.
Please enable JavaScript to view this content.