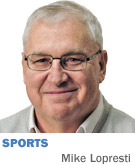 They all know what Bill Garrett means to Indiana. The son, the grandson, the teammate who played alongside him on a special night in Butler Fieldhouse 70 years ago.

On March 22, 1947, the Shelbyville Golden Bears won the state basketball championship, with—for the times—a lineup that shook the Indiana earth. Three African-Americans were starters, and the most renowned of them was Bill Garrett. The 46 points he scored in two games that day were but a harbinger of the history to come, when he would break the color barrier at Indiana University, playing for a coach—Branch McCracken—at first reluctant to take him. He would be the first black man to start in the Big Ten, the Jackie Robinson of the league. And years later, he would coach Crispus Attucks High School to the 1959 title—one of the very few to both play for and coach a state champion.

On Feb. 19, 2017, seven decades distant from Garrett's high school glory days, his son and grandson will be in the same fieldhouse—now called Hinkle. Billy will be on the bench as an assistant coach for DePaul University. Billy Jr. will be on the floor as a senior, the respected team leader of the Blue Demons who has overcome sickle cell anemia.
After leading the Shelbyville Golden Bears to the 1947 Indiana high school basketball championship, Bill Garrett went to Indiana University and became the first black player to start in a Big Ten basketball game. (Photo courtesy of Indiana University)
The family past, in all its pain and glory, won't be far away. The Garretts will be only six miles from the downtown hotel that refused to allow Bill Garrett and his two black teammates a room to rest with the other Golden Bears between games of the semi-state in 1947.

They will be only six blocks from the house on 44th Street where Bill Garrett raised his family. Where he taught his son Billy to play basketball on the court he built in the backyard, with a plywood backboard. Where one afternoon, an errant shot by 9-year-old Billy broke a window pane.

It was during a visit to the store to get the pane fixed that Bill Garrett suffered the heart attack that took him at age 45.

The son and grandson have been to Hinkle before with DePaul, reliving their roots in a place where another Garrett thrived as a boy and a man. But this will be goodbye.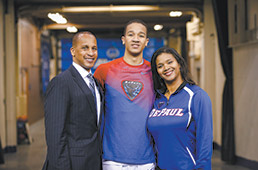 Billy Garrett Jr. is flanked by his parents, DePaul Assistant Coach Billy Garrett and Annissa Garrett. (Photo courtesy of DePaul University)
The grandson: "I knew from the first time I played there, I was just in awe of what he accomplished there. It was like a surreal feeling. Going there for the last time, it's going to be a little emotional for me, wearing a jersey with Garrett on the back."

The son: "Hopefully, it won't be the last time a Garrett plays there. Bill may have a son one day that's fortunate enough to play there. But it'll be tough for me, because it'll be his last time to play somewhere where my dad actually played.

"I miss him every day. That's why, when my son was born, I named him after my dad."

Indeed, to set the record straight, the grandson is William Leon Garrett II. Years ago, people started calling him Billy Jr., wrongly believing he was named after his father. The moniker stuck. But he understands whose name he carries.

Know who else can appreciate the tale of Bill Garrett? Don Chambers is 87 years old, and has lived in New Castle most of his life. He grew up in Shelbyville and, on that 1947 day in Butler Fieldhouse, was a junior backup pressed into action by a senior's foul trouble.

Chambers' memory has not lost a step. He remembers the Shelbyville of his youth. The segregated schools, segregated theater, segregated swimming pool. No wonder he never ran into Bill Garrett as a kid.

"My freshman year, one of my friends came home from practice, and said, 'We've got this really good basketball player named Bill Garrett.' That's the first time I ever heard his name," Chambers said.

He remembers the 1947 season, and the abuse the team took on the road, aimed at Garrett, Emerson Johnson and Marshall Murray.

"Somewhere along the line, we weren't the Golden Bears anymore. We became the Black Bears. There were a lot of derogatory remarks. Bill was a really nice, easygoing guy, pretty even-tempered. He'd just kind of smile at them, and score another two points. He was probably the right guy to break the color barrier in the Big Ten."

How bad was it? Chambers recalled the semi-state. "When we got to the hotel, we went into the lobby and Coach passed out the keys, and we went up to our rooms. Then we came down to eat and we found out the black players couldn't stay there at the hotel. They had to stay in an annex next door. [Coach] Frank Barnes was livid about that."

The next week at the state finals, the Bears stayed at a Butler fraternity house between games.

Shelbyville went 25-5 that season. One of the defeats was a home loss to Terre Haute Garfield, 52-44. Garrett fouled out on a disputed call. He endured a lot of disputed calls.

"As soon as the game was over, a bunch of the men from Shelbyville chased the referees to the locker room," Chambers said. "A big crowd gathered outside the door, and they had to have the police come in and escort the referees out of town."

Fate would put the two teams together again for the state championship. Garfield was undefeated, Shelbyville the upset kings who had knocked off No. 1 East Chicago Washington in the afternoon. Three Shelbyville players fouled out, and Garfield's Clyde Lovellette—who one day would win a national championship at Kansas and three NBA titles—was terrific with 25 points.

But the Golden Bears found a way with 23 points from Johnson and 21 from Garrett.

"I made the last shot and we won the game," Chambers said. "But we won by 10 points."

The final was 68-58. Seven decades later, Chambers reached in his pocket and pulled the championship ring he was given that night. It remains one of his most prized possessions. Later in the spring of 1947, Garrett was named Mr. Basketball. Now, the gym in Shelbyville bears his name.

As a little boy, Billy never heard much about the abuse inflicted on his father. Not until after Bill was gone, from his mother. "He never said, 'They did this to me and they did that to me.' He would look more at it that he would compete in every situation and try to come out a better man. That was the example he always tried to give."

Ask for a favorite memory, and Billy will tell you about the time his father tried to teach him to shoot layups off the correct foot in the backyard. A scene replayed a million times in Indiana.

"I told him, 'No, this is how I shoot it.' He just said, 'OK, we'll just play one-on-one.' I get the ball, he lets me dribble in and—whop—he blocks about six or seven in a row. Then he says, 'Do you want to do it the right way now?'"

The backyard concrete was a slice of the north side of Indianapolis they shared together. When his father died in August of 1974, Billy could not get himself to play on that court until the next summer.

Now it is 2017, and the final days of his son's college career are ticking away. Billy Jr. has been a dependable four-year player for DePaul, wishing only there had been more victories. The sickle cell anemia nearly killed him as a freshman, but he's played on. Clearly, there is something of his grandfather's resilience—and dignified defiance—within him.

The grandson: "What I've gone through doesn't even compare to what he went through. Me knowing that, knowing there's a piece of him in me, that makes what I'm going through a lot easier.

"I do wish I would have had the chance to meet him, but my family fills that void for me."

The son: "I think that courage might have skipped a generation with me. Those two, they have been way more courageous than I have. I've been blessed to be a part of both their lives.

"My dad, he spoke to a lot of people without speaking to a lot of people. He spoke to the world with his actions. He affected the lives of many, and that's a blessing to be able to do that. He went through some things that made it easier for me, and made it easier for my son."

Billy Garrett's voice wavered a tad about then. And why not? Feb. 19 might, in its way, be Bill Garrett's last bow in Hinkle Fieldhouse. But the trail he blazed goes on forever.•

__________

Lopresti is a lifelong resident of Richmond and a graduate of Ball State University. He was a columnist for USA Today and Gannett newspapers for 31 years; he covered 34 Final Fours, 30 Super Bowls, 32 World Series and 16 Olympics. His column appears weekly.