Fresh out of business school and ready to put his Harvard MBA to work, Ron Henriksen made his first business deals in the late 1960s, a time when people knew more about Ho Chi Minh than venture capital.

It's so long ago that he can't remember the names of the companies he bought and sold. But he knows one thing: He liked it. Liked figuring out what companies were worth. Liked working with investors to figure out ways to improve on their returns. Liked that venture capital was new and exciting and didn't require him to work for a large, stodgy company.

Now 70, he still likes it.

Over the years, Henriksen has put together hundreds of millions of dollars worth of deals, first for Irwin Management Co. in Columbus, then for Eli Lilly and Co. and, most recently, for an Indianapolis-based partnership called Twilight Venture Partners LLC. Earlier this year, he served as an adviser in helping guide the sale of Angel Learning Inc., a classroom-management technology company started at IUPUI, to a competitor, Blackboard Inc., for more than $95 million.

His role has changed over the years, from buying up companies to helping create and fund businesses that eventually will be bought. Among his latest ventures is EndGenitor Technologies Inc., which is developing technology to use stem cells to create new blood vessels.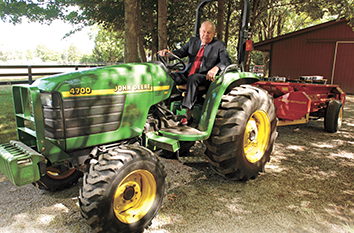 Henriksen often dons a suit to negotiate a deal, but his soft-spoken ways and rural roots make him easy to underestimate. (IBJ Photo/Robin Jerstad)
But while biotech is his business, at heart—and often in appearance—he's still an Iowa farm boy. He likes blue jeans and baseball caps. He exercises regularly but carries 15 extra pounds and always has.

"It's just my genetics," he said.

He and his wife, Penny, live on a 45-acre farm near Avon, where the crop rotates between soybeans and corn and he's built a shed and horse shelter. Not long ago, he traded in his 1998 Dodge Durango for a new Toyota Highlander. His vehicle on the farm: a John Deere tractor.

A lifetime of deals has made him "reasonably wealthy." But he said money doesn't drive him. "It's more just the fun of doing it."

"He's such a humble guy," said Christopher Clapp, the former CEO of Angel Learning. "We would be having a conversation about this, that or the other thing—maybe it was Labor Day weekend. I'd say I was thinking about going to the Penrod Arts Festival and he would say, 'Oh, yeah, I was on that original organizing committee when it was getting off the ground.' You would never know it, unless there was some reason to prompt it, that he would have all these little anecdotes about things he'd been involved with in his career in Indianapolis. It would have to surface on its own."

Henriksen was raised by a mother, now 93, who played piano, sang soprano and ran the church choir, and a father who died in a freak farm accident around the time his son was making his first deals. "So, so, so sad," he said. "He was such a great guy."

He left home to study at Iowa State University, then spent four years in the Navy.

"The Navy was very, very good for me," he said. "You get responsibility there that you just never could get in the civilian world. On my second ship, which was a guided missile cruiser, here I was, at 23, in charge of the ship overnight."

Six hundred men depended on him to not screw up.

"It got me to be more responsible," he said. "I was kind of happy-go-lucky. I'd go out and have a lot of fun. That got me targeted toward business school."

He graduated with distinction from Harvard Business School. Irwin Management recruited him, figuring he might want to go back to the Midwest. He did, and enjoyed making deals and working on projects like managing Yale University's endowment funds.

In 1970, a friend from Harvard who worked for Lilly recruited him to improve the company's pension plan performance. Eventually, he moved into buying companies that had developed medical technologies Lilly either couldn't or wouldn't do itself.

"This was a great time in biotechnology, when the whole industry was being born, to do this stuff," he said.

With the backing of then-Chief Financial Officer Jim Cornelius and Lilly's science and medical teams, Henriksen made several major deals. Of the 26 takeovers he negotiated from April 1983 through March 1993, 20 made the company money. Overall, he invested $106.3 million and realized $186.4 million.

Sitting down for an interview, Henriksen looked over a list of those deals proudly, remembering the 1988 purchase of Athena Neurosciences, a San Francisco company that specialized in Alzheimer's disease therapeutic research. That $7 million investment grew to a value of nearly $23 million.

A few clunker deals

But he also recalls the clunkers where Lilly lost some or all of its investment. He thinks back to Pittsburgh-based Medrad Intec, which was trying to develop the world's first implantable cardiac defibrillator.

"The technology wasn't quite there," Henriksen said. "We learned a lot about what not to do in devices."

And then there was Telios, out of San Diego, which made peptides for osteoporosis therapeutics.

"This was a case where there was a difference of opinion on the scientific side of Lilly about whether these things were going to work," he said. "They had tried in their labs and couldn't get anything to work. This company looked promising. Ended up, theirs didn't work either."

In 1993, some venture capitalists in California recruited him to run Khepri Pharmaceuticals, which specialized in developing protease inhibitors used in the treatment of numerous diseases. Khepri was acquired in 1995, and by 1996, Henriksen was ready to return to Indiana.

Makes mark at IU

He did some investing for a firm in Minneapolis before Indiana University alumnus and venture capitalist Jack Gill told him the university needed someone to run its technology transfer operation. Professors and students were developing new products and technologies, but they didn't have someone to market their work to companies that can turn their inventions into commercial properties.

Enter Henriksen, who became president and CEO of the Indiana University Research and Technology Corp. in 1999.

A year later, Ali Jafari, a professor of informatics at IUPUI, and David Mills, a student, came into his office with software they'd designed to help teachers manage their courses online. Henriksen talked to a few venture capitalists about investing, but they found the idea too risky. So he approached IU President Myles Brand, who backed the venture with $135,000 from the Indiana University endowment.

Henriksen set up Jafari and Mills as Angel Learning, which began operating from the IUPUI technology transfer office on Indiana Avenue. Within a year, the company had a number of clients, including Pennsylvania State University. That gave Angel the credibility it needed. Then Henriksen brought in Clapp, an experienced software CEO, to grow the company.

"I think it's fair to say Angel would not have existed if it weren't for Ron being in that position," Clapp said. "Ron really pushed through the idea that this technology deserved to have a company created around it, and I think he cleared all the obstacles."

Blackboard's acquisition of Angel Learning landed IU $24 million.

Henriksen expects the streak to continue with EndGenitor, one of about 20 companies in the IU Emerging Technology Center labs and offices at 351 W. 10th St. on the Central Canal.

Carlos Lopez, EndGenitor's founder and former chief scientific officer, said when the company went looking for a CEO, he called Gus Watanabe, chairman of BioCrossroads, for a recommendation. Watanabe, who died in June this year, recommended Henriksen, and "it was an absolute slam dunk."

"When we made this deal with the university, I was sitting in the back of the room for the first couple of days and listening," Lopez said. "Ron made clear the issues that had to be dealt with and made sure we got the things that were important to the company's future. We came up with a deal that satisfied all the needs of the company."

What Henriksen did was get some money to finance the company—some from Twilight Venture Partners, some from other investors. With $200,000 and four full-time employees, he kept initial costs low. When the technology advanced, he called on more investors. EndGenitor is now in its fifth year, and Henriksen said the company's near-term plans call for applying for "a big grant" and approaching large companies that might want to invest.

So far, they've spent $4.2 million, he said. He expects the company to sell for 10 to 15 times that once its discoveries receive FDA approval.

Sweats the details

Friend and former business associate John Kerstiens said Henriksen is successful because he makes the effort required. If he has to make copies or round up people for meetings, he will.

Henriksen credits his deal-making success to having solid people skills. He said he knows how to read people and motivate them. And he's strong in the area of financial analysis.

"Don't overinvest," he said. "Don't spend ahead of the science. Make sure it's proven, or close. Build in milestones in your deals—if you achieve this, you'll get this."

"Once you do a lot of deals," he said, "you learn to read the signals early, particularly if you play it in the right way and act as a facilitator and not some big boss."

Henriksen comes across that way in interviews, too. He always appears to be on an even keel, whether he's discussing the deals he's done or the children from his first marriage—John, a project manager in New York for Right Management, a firm that helps displaced workers find new careers, and Anne, who bled to death during what he calls a botched operation about five years ago. A malpractice suit is ongoing.

For someone who puts such stock in medical advances, it was a particularly cruel blow.

"It was very sad, of course," Henriksen said. "It made me more dedicated to work in this field, to do better."

So he has no retirement plans.

"I don't want to sit around, and I don't think my wife would want me out there sitting around," he said. "Someday, maybe I'll come in and somebody will say, 'Ron, you don't need to come in tomorrow.' Then I'll retire. But so far, I'm not there yet."

He did "retire" once. He left IURTC, but quickly became CEO of Semafore Pharmaceuticals Inc. and chairman of Angel and started EndGenitor—all at the same time.

"On the weekends, he was doing Habitat for Humanity," Kerstiens said. "I asked him when he was ever home. But that's Ron.

"He's just one of those guys who'll be trying to do a deal at his funeral."•