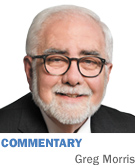 About five years ago, my wife and I decided it was time to move out of the house where we raised our three kids in Carmel (east of Keystone at approximately the 116th Street parallel) and downsize into an "empty nester" property. Our house was three levels with a walk-out basement. It was your traditional 1990s home with each room sectioned off and a lot of stairs.

With both of us working in the heart of downtown Indianapolis, we thought we wanted to move farther south, so we set our search boundaries at 116th Street on the north, Allisonville Road on the east, 71st Street on the south and Michigan Road on the west—with the heart of the target area tighter than those broad markers.

To make a long story short, we searched for two years and couldn't find what we wanted. Either the homes in neighborhoods we liked needed major renovation and we weren't up for that at this stage of our lives or, if they were already renovated, they were outside our target price range. New construction opportunities were elusive.

We decided we weren't going to compromise. We settled on looking for new construction in a ranch-style home with the master bedroom on the main floor, an open floor plan, and the opportunity to either build up with a bonus room/apartment or down with a finished lower level.

We gravitated north to Westfield. We kept finding houses in developments that met our parameters north of 146th Street. Every time we would look there, my wife would say, "This is too far out. Why would we want to increase our drive time to downtown and back?"

Finally, my friend Charlie Morgan, who at the time was market manager for Emmis Communications Corp.'s Indy radio stations, sealed the deal for the move north. He lived a few blocks from us in Carmel and then moved north to Westfield in the area we were looking. And, he worked a block from my office downtown. We had lunch one day and talked about how my wife just couldn't reconcile a longer commute. He countered that the commute was the same from his new house as it was from our old neighborhood. He said the easy access to Keystone Parkway provided a quick trip with no stops until you get to 96th Street. He also talked about, at the time, coming construction on U.S. 31 that would accomplish the same thing on that highway.

Charlie was right. We pulled the trigger on building a wonderfully designed and constructed John McKenzie home and never looked back. Today, with both Keystone Parkway and U.S. 31 fully open with no stops until just before 96th Street, the commute is just right. And so I would say to those folks who are considering living as far north as Chatham Hills in Westfield north of 196th Street or farther out—your commute downtown will be very manageable.

Our move took place over three years ago, and we still love our modern house and the area around us. We're right on the border of Carmel, Westfield, Noblesville and Fishers—each community a short distance away. The choices for shopping for anything are plentiful and close. Westfield's development boom has been fun to experience. I never cease to be amazed at Grand Park Sports Campus and everything that has built up around it. And there's a lot more to come.

IBJ's North of 96th reporter Lindsey Erdody, who reports on the continuing development in Hamilton County, is never at a loss for something to write about. The pace of building and new development continues to be at a level I haven't seen for years. Be sure to find at ibj.com Lindsey's recent story "Noblesville's Corporate Campus fills in with homes, restaurants, retail and more."

That area around Hamilton Town Center at Interstate 69 and 146th Street is a favorite destination for us. Development was brisk before the addition of Cabela's a few years ago, but things are really moving now. The new Ikea store will most certainly have a similar effect down the road in Fishers. By the way, Cabela's is like a beacon begging me to stop in and take another walk through. I have to leave my Cabela's Club card at home to prevent over-use.

As a lifelong Hamilton County resident, I highly recommend that everyone venture out to see all that's going on here. Even if you, too, are a longtime resident, you'll find something new to like.•

__________

Morris is publisher of IBJ. His column appears every other week. To comment on this column, send email to gmorris@ibj.com.