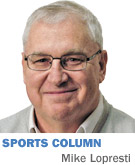 Time to play fill in the blank. The Indiana Pacers are ...

Not quite ready for prime time? A playoff troublemaker for the big boys? A playoff speed bump for the big boys? Or, that depends on the day, and maybe the hour?

The answer has been a little hazy, which is why the second week in February seemed a good opportunity to check the vital life signs, All-Star break coming and all. Plus, good opponents are on the docket, one after another. So here's the slide show to click through:

Eight Days in the Life of the Pacers.

Click. This is the stat sheet before the Feb. 6 game with Oklahoma City. Notice the part where Indiana has gone 13-4 since Dec. 30. Move over, Cavs. Funny thing, though. Only one of the 13 teams they beat had a record above .500. That was about to change. The groundhog saw his shadow four days earlier, but the Pacers would not have six more weeks of the Brooklyn Nets.

Click. Know that old cliche—some things don't show up in the box score? Here's one. The video board informing us—courtesy of a program called SportVu, which tracks players' motion on the court—that Myles Turner has run 1.85 miles by early in the fourth quarter. In case anyone is wondering.

Click. This is Coach Billy Donovan on the Thunder bench. Any Indy visit must evoke fond memories for him. It was just a few blocks away at the RCA Dome that he won his first national championship with Florida in 2006.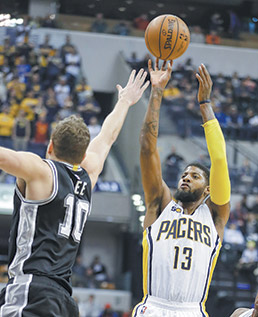 Paul George got a shot over San Antonio Spurs David Lee in the first half of a Feb. 13 game, but the Pacers lost 110-106. George's post-game comment: "At the end of the day, they played San Antonio basketball." (AP photo)
Click. This is Russell Westbrook's 3-pointer to tie rattling in and out. Indiana wins 93-90. Seven victories in a row, and four consecutive opponents held under 100. Good tidings all around.

Click. This is Rodney Stuckey in the locker room afterward. Why is this man smiling? Because his hamstrings had finally stopped hurting long enough so he could play, after missing much of the season. "God is testing my willpower, testing my mind-set," he says.

Two days earlier, his old school, Eastern Washington, had won a three-overtime game 130-124. Two players had each scored 45 points to tie the school record. Stuckey's school record. "I follow them on my phone, so I'm probably going to reach out and congratulate them."

Click. This is Paul George holding court in the locker room. "We played defense. We got stops. Simple basketball. We're happy where we're at; now it's time to prepare for the next one."

The next one? Oh, yeah. LeBron James is coming to town.

Click. This is James warming up two nights later. Yep, he's playing. The customers were wondering because, lately, James has used Indiana visits as his own official LeBron holiday. "I ain't sitting," he had grumbled that morning, annoyed at the question whether he would be in the lineup.

Click. These are the court-side sections before the game. Notice that the ratio of fans wearing No. 23 James Cavs shirts to No. 13 George jerseys is about 5-1. Notice the two men sitting in the second row of section 2, presumably hoping to get a close look at James warming up. Wait a minute. Those are Larry Bird's seats. Those guys aren't there for long.

Also notice the two young brothers near mid-court. They've come 8,000 miles to watch this. Kai and Wilson Strother from New Zealand, here for a week to see their first NBA games and first LeBron James game.

"This is like a lifetime dream of ours. It's a bucket-list thing," Kai says.

"We follow the NBA as best as we can from New Zealand. We try to know the history but it's always from the YouTube perspective, not firsthand, so that's what this is about. So I can say I saw our generation's best player," Wilson says.

Click. This is halftime. See the woman riding a 7-foot unicycle with bowls on her right foot? That's Red Panda, the Elvis of halftime shows, who wows crowds everywhere by flipping those bowls onto her head. Let's see George or James try that.

Click. That's the scoreboard in the third quarter. Is it smoking? Probably, because the Cavs just buried the Pacers 40-18 in the period.

Click. This is Indiana Coach Nate McMillan sitting at a microphone after the 132-117 loss, talking about his five C's. "It was three C's until I watched the Super Bowl, then it became five C's," he mentions. His original C's were calm, clear and consistent. But something about the New England Patriots rally made him add being connected and confident.

Actually, if he was looking for C's to explain this defeat, he could add a sixth: Cleveland.

Click. This is Myles Turner in the Indiana locker room. What has the evening shown?

"That we still have some work to do. We've had a good past couple of weeks, but this night brought us down to earth."

Click. This is Friday and the Pacers are still down to earth. Washington, D.C., to be exact. They've just lost 112-107 to the Wizards and one line on the stat sheet—14 Washington offensive rebounds for 20 second-chance points—has McMillan nearly nauseous.

"That's a free basketball and they beat us to the ball 14 times. They're winning the hustle game, and you can't lose that. ... We're going to have to get tougher."

Click. This is Saturday night. Note all the Reggie Miller bobbleheads. A bunch of other guys from the golden days of the 1990s are also introduced. Too bad they can't play, as the Pacers go down meekly to Milwaukee 116-100. It is a curious game, with Jeff Teague taking only two shots in 32 minutes. McMillan is asked about it afterward. A dozen media members lean forward, eager for the coach's analysis.

"I can't explain that."

Click. This is Indiana native son Gregg Popovich three nights later. At the moment, there is no other coach in professional sport quite like him: a white-bearded man with five NBA championship rings in San Antonio, a 29-8 record against the Pacers, and more anti-Trump-administration sentiments than MSNBC.

He is outside the Spurs' locker room before the game, prompted by media questions, decrying the lack of empathy from the White House for the downtrodden and discriminated-against, wishing more people would speak up in protest. He has been an outspoken critic for months, and he's not backing down just because he's a 10-minute walk from Mike Pence's old Statehouse.

"Some days, I feel like we've been invaded by another power and been taken over. It doesn't feel the same. It's a strange land."

Click. This is the Pacers' post-game locker room, and it is not the Magic Kingdom. Not the happiest place on Earth. Another game was there to be won, but instead, the Spurs used a late 13-4 run to seize the day, 110-106. Four Indiana losses in a row.

Turner mentions all the 50-50 balls and hustle plays that went the Spurs' way. "That's been a problem for us these past few games," he says. "Some of it's awareness, some of it's IQ, some of it's just getting down and doing the dirty work. That's what we need to start doing."

McMillan's explanation is plain: "When it comes down to winning, you've got to make plays."

The slide show is over. In five games, Indiana went 1-4, and 1-3 at home. Something George said about the Spurs: "At the end of the day, they played San Antonio basketball."

Which begs a question. At the end of the day, just what is Indiana basketball? The message from eight days with the Pacers: It's still hard to tell.•

__________

Lopresti is a lifelong resident of Richmond and a graduate of Ball State University. He was a columnist for USA Today and Gannett newspapers for 31 years; he covered 34 Final Fours, 30 Super Bowls, 32 World Series and 16 Olympics. His column appears weekly. He can be reached at mlopresti@ibj.com.