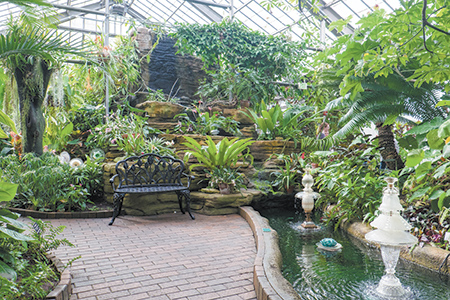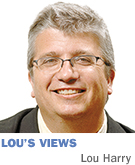 From spring through fall, Indianapolis' parks may be top of mind for an afternoon out.
In winter, though—even a mild winter such as this one—they can easily drop off our collective radar as cocooning at home becomes our default setting.
But Indy's facilities have a range of activities to choose from year-round, many at low or no cost.
I took a recent Saturday afternoon, for instance, to pay my (embarrassing to say) first visit to the Garfield Park Conservatory. Oh, I've been to Garfield Park before—for art shows, a theater production and peaceful strolls—but somehow never found myself inside its botanical showplace.
Designed and constructed in 1916 by landscape architect George Kessler, the street namesake whose park and boulevard system helped define Indianapolis, the original conservatory was replaced in 1955 with the art deco aluminum structure that stands today. It's housed rainforest-themed greenery since 1997. Admission is $4, which feels less like a cover charge and more of a donation to keep this treasure in business.
Inside, South Asian banyans, Buddha belly plants from Central America, Canary Island dragon trees and many more tightly packed species silently encourage visitors to stop and contemplate. A path leads to a small area of creatures—including a corn snake, a white tree frog, a Chilean tarantula doing an excellent job of hiding, and a murky tank of fish—and to a restful area with a waterfall and clearer pond brimming with mustached koi. Benches allow for kicking back, and a path under the waterfall is a hard-to-resist photo op for families.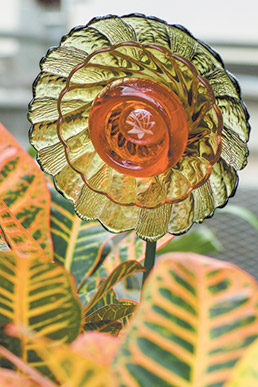 Repurposed glass creations accent the Garfield Park Conservatory. Admission is $4, which feels more like a donation to keep the place in business. (IBJ photo/Eric Learned)
On my visit, the growing collection was accented but not upstaged by "Dancing Waters: Crafted Glass Fountains and More" (which closed Feb. 10), in which local glass artists Daniel and Dennis Baar of Two of a Kind Studio repurposed plates, bowls and other glass items to create fountains and flowered and mushroomed objects, some lit from within. A spring bulb show is set for early March with a gnome show following and continuing into April. If nothing else, such accents provide fodder for an I-Spy game to keep the kids busy.
The conservatory isn't the only active spot at Garfield Park. There's also the monthly Vintage Movie Night at the Garfield Park Arts Center with $5 tickets and $1 candy and drinks. Far from the usual "Remember this?" programming of the Indianapolis Museum of Art and other nostalgia presenters, Vintage Movie Night emphasizes obscurities. Upcoming films include 1932's still creepy "Freaks" and 1918's silent "Little Orphan Annie." And for something more actively creative, the family-friendly Social Sketch Indy invites visitors to bring their own art materials for a creative and chatty afternoon Feb. 25.
Parks around the city offer a range of winter activity, too. Broad Ripple Park offers a Self-Defense for Women class on Feb. 21. Sap to Syrup Day at Holliday Park, Feb. 25, includes Sugar Maker's Sundaes and trail tours every 15 minutes from 12:30-2 p.m. for $7. And the Riverside Quilting Circle meets Thursdays at Riverside Park.
Most of the 13 Indy Parks golf courses are open year-round. And if you want to get outdoors but like to have a task to complete, the Great Backyard Bird Count Feb. 19 at Eagle Creek Ornithology Center invites the public to collect data on wild birds.
The ice rink at Perry Park is open until the third week of March. Adult skating admission is $6, with $3 for skate rental. Just call ahead to make sure there's not a hockey practice or private party when you plan to visit.
And while we might not see much downhill fun this year, it's good to keep in mind for the future that Southwestway Park, Ellenberger Park and more welcome sledding dawn to dusk.
Of course, you can also dive into one of Indy Parks' four indoor pools: Krannert, Thatcher, Washington and Indy Island.
That's just a sampling, of course. Check funfinder.indy.gov for more, along with hours and fees.•
__________
This column appears weekly. Send information on upcoming arts and entertainment events to lharry@ibj.com.
Please enable JavaScript to view this content.