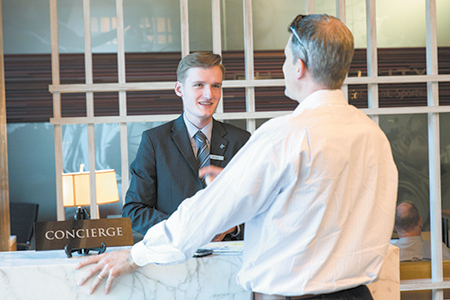 Local hoteliers and hospitality officials are bracing for a soft 2018.
Experts are projecting hotel room bookings by conventions and groups will fall 19 percent in Indianapolis next year, a hit that will strike not just hotels but also the agencies and facilities funded by tourism taxes.
And some in the industry are pointing to the fallout from a controversial 2015 law as the culprit responsible for an expected one-year downturn.
That's because conventions and groups generally book events at least three years out. So the economic impact of the legislative fight over the Religious Freedom Restoration Act—and the resulting national outcry about the state's approach to gay-rights issues—wasn't felt immediately. Instead, it is reflected in bookings for 2018.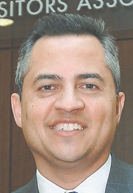 Hoops
"There's no doubt, 2018 looks like a bad year," Visit Indy CEO Leonard Hoops told the Capital Improvement Board in a meeting this month. "It's not impossible to get back to pace, but it won't be easy and I don't expect us to get to 2016 and 2017 levels."
Visit Indy's goal is to attract enough group visitors each year to account for 725,000 hotel room nights. That's 28 percent of downtown's inventory.
"That's what we feel is a good, healthy number," Hoops said.
In recent years, Visit Indy has beaten that goal—booking 743,956 room nights for 2014, 731,300 for 2015, and a record 822,654 for 2016. And 2017 is on pace to top that.
But Hoops said his organization might book about 150,000 fewer room nights in 2018 than for either 2016 or 2017.
If that forecast holds true, CIB will likely lose millions of dollars in tax revenue—money used to operate the Indiana Convention Center and Lucas Oil Stadium and fund the vast majority of Visit Indy's $14.6 million budget.
Taxes from hotels, food and beverages, and car rental alone count for more than $65 million of CIB's annual revenue—about two-thirds of all the tax money coming into the quasi-governmental organization.
Visit Indy is projected to book 677,593 hotel room nights for 2018, according to Strategic Data Resources' Trend Analysis & Projections Report. That's the lowest number since 2011—before the most recent convention center expansion.
Another bad sign: Groups that have booked 3,000 or more hotel rooms on peak nights in 2018 is at a five-year low. Only 16 groups of that size are booked for 2018, compared to 24 this year and 19 for 2016.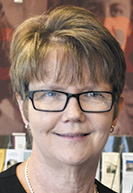 Myers
CIB officials declined to make predictions about the budget impact of fewer bookings. But assuming the 19 percent trend holds, the tax-revenue decline from the previous year could be more than $12 million.
In addition, hospitality officials said a decline in Visit Indy bookings would almost certainly depress the price of hotel rooms, which would further erode CIB's tax base.
An industry-wide economic downturn—which some are forecasting—could make matters worse.
"I'm probably being overly pessimistic about 2018," said CIB board member Brenda Myers, CEO of Hamilton County Tourism. "I just think as a region we need to study 2018 and have a plan."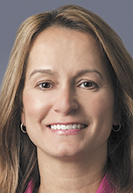 Kennedy
Big picture
CIB President Melina Kennedy is confident the group has enough money in reserve to cover its financial obligations should next year see a financial shortfall.
"We're taking this very seriously and we're going to continue monitoring it very closely throughout the year," Kennedy told IBJ. "But we have to look at this not just year-to-year, but look at the big picture: 2016 and 2017 are very strong."
And 2018 could just be a blip.
The FFA extended a contract to hold its national event in Indianapolis through 2021 and the NCAA booked a Final Four here in 2021. So the post-2018 era looks like it's bouncing back, Hoops said.

But "we missed a sweet spot of opportunity in 2015 for 2018," Hoops said. "You can draw the conclusion that the negative publicity Indianapolis got in 2015 affected what we booked for 2018."
Pressed on the issue, Hoops said the problem wasn't the RFRA law itself.
"That was corrected pretty quickly," he said, referring to changes former Gov. Mike Pence signed into law a week later, after critics complained the law could lead to discrimination against the LGBT community.
"It was all the negative publicity that went with it," Hoops said. "We documented that we lost 12 conventions worth $60 million [in economic impact] in the RFRA aftermath and some of those were definitely for 2018."
The numbers for early bookings tell the story:
• In 2014, Visit Indy booked almost 137,000 hotel room nights for gatherings in 2017.
• Then in 2015, the group booked only 75,524 hotel room nights for 2018.
• And last year, the number of hotel rooms booked three years out—for 2019—rebounded to more than 111,000.
To fill the gap for 2018, the Visit Indy sales staff has shifted into overdrive, trying to book smaller meetings that commit less than two years out. Hoops said his organization is "looking at e-marketing and direct-mail campaigns for 2018."
Visit Indy also will have to consider cutting better deals with groups for items like convention center rent and attendee attrition clauses, Hoops said.
Kennedy is pleased with Visit Indy's strategy.
"I have a lot of confidence in Visit Indy's aggressive approach to this situation," she said. "We still have time, and I think with a concerted effort, we'll be in a better position than it appears we are now."
'Tricky balancing act'
Hoteliers aren't ready to wave the white flag, either.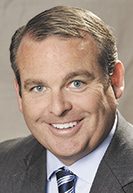 Tamm
"While there's some concern from hoteliers about 2018, we're optimistic about the pickup of smaller, self-contained meetings," said Patrick Tamm, president of the Indiana Restaurant & Lodging Association. "The hotels' own sales staffs are selling hard and some of these self-contained meetings book three to six months out. So there's time."
But that strategy can be a tough one.
"Naturally, you want to land the big fish," said Debbie Locklear, CEO of locally based Meeting Services Unlimited. "Filling in the gaps by booking a bunch of small and midsized meetings is a very time-consuming, labor-intensive process."
Visit Indy will have to be careful not to lose focus on landing bigger events in more distant years by concentrating too much on smaller gatherings for 2018, Locklear added. "It can be a tricky balancing act."
Visit Indy's catch-up strategy seems to be paying off. In January 2016, the group was pacing to book just 652,500 hotel rooms for 2018. By December, that number had increased to 667,000 and, as of Feb. 15, the projection bumped up another 10,593.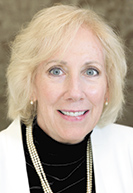 Locklear
And it's not unheard of for Visit Indy to land a big fish late. Last June, it signed a deal with Primerica Inc., one of North America's largest financial services sales forces, for a show to be held this June 14-17. The event is expected to draw 50,000 attendees and have an economic impact of $35 million, according to Visit Indy.
But with the number of hotels continuing to increase in Marion and surrounding counties, the pressure mounts for Visit Indy to continue beating its goal of 725,000 room nights, industry experts said.
Indianapolis has added 2,000 hotel rooms—increasing its total to 33,000—since 2010, while fast-growing Hamilton County is expected to grow to 4,400 rooms by 2018, up from 3,100 in 2010.
"I'm worried because we have a lot of inventory coming online," Hamilton County Tourism's Myers said. "And what happens in Indianapolis does have an impact here."•
Please enable JavaScript to view this content.