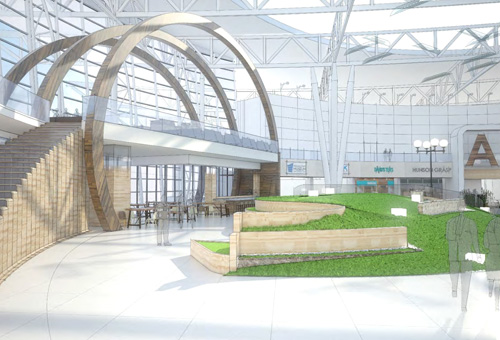 More gate-area retail offerings, fewer moving walkways and some artificial grass could be in store for Indianapolis International Airport.
The airport is in the planning stages of an effort to update its terminal and campus, and on Friday the Indianapolis Airport Authority's board members got their first look at what those updates might look like.
The airport is trying to achieve several goals: Update its facility, which opened in 2008; improve the passenger experience; and create a sense of place by referencing iconic Indianapolis locations and people.
Architectural design firm Synthesis Inc. and branding agency Bradley and Montgomery, both based in Indianapolis, are working with the airport on the project. On Friday, some broad concepts emerged. 
The circular commons area between ticketing and security, which the airport calls Civic Plaza, could be subdivided into smaller zones including seating areas, a City Market-style area for vendors, and a contoured area covered with artificial grass that could be used for performances and events.
"What we're trying to accomplish is to break up Civic Plaza into a lot of different spaces," Synthesis Senior Project Manager Robert Wease told the board.
Another goal is to shuffle the mix and locations of the terminal's retailers.
Of the airport's 53 vendors, 36 have contracts that expire next year. The airport is in the midst of revamping its concessions program, with an eye toward recruiting more local vendors. 
Locating more retailers in the gate areas is also a priority. Right now, 40 percent of the airport's restaurants and shops are in Civic Plaza, meaning that only 60 percent are in post-security gate areas. 
The industry standard is to have 80 percent of retail offerings in post-security areas, said Marsha Stone, the airport's senior director of commercial enterprise. 
Passengers, she said, generally prefer to get through security lines before they eat or shop. This preference shows up in sales figures: Retailers in Civic Plaza average sales of $6.22 per square foot, as opposed to $7.72 per square foot in gate area A and $11.51 in gate area B.
In order to get more retail offerings closer to the gates, planners propose removing the moving walkways at the far ends of both the A and B concourses. The set of moving walkways closer to the terminal would remain in place.
Removing the walkways would free up 2,800 square feet of space that could be used for additional restaurants and different types of seating areas, from pedal-powered electronic device charging stations to plush couches. (Click image below for larger view.)
Preliminary plans for the airport also call for additional signage: a large outdoor welcome sign for arriving and departing passengers, and large signs that more clearly identify each gate.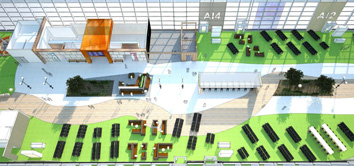 Removing automated walkways in the gate areas would open up room for more services and styles of seating. (Image courtesy Indianapolis Airport Authority)
Conceptual drawings favor the use of limestone, wood and artificial grass to reflect Indiana's natural surroundings. They also shows ideas for bringing local landmarks into the facility: a digital signboard displaying quotes from Hoosier author Kurt Vonnegut, for instance, or a children's play area shaped like a miniature Monument Circle.
Shannetta Griffin, the airport's senior director of planning and development, told the board Friday that the ideas are only "conceptual" at this point. A purpose of the meeting was to solicit input and ideas that could alter the final designs.
"Nothing here is final," Griffin said.
Board members offered some support, but also some critiques, of the proposal.
Board member Mike Wells, who is also the CEO of REI Real Estate Services LLC, said any changes should be "clean and timeless" so that they don't add clutter or become dated-looking.
Wells also cautioned that children's play areas are tough to do well, and he suggested borrowing ideas from other airports.
"Let's copy something that works," he said.
Board President Barbara Glass reminded directors that they will have to set priorities and should not expect to accomplish everything they saw.
"There is no way we can afford all of this. I think we all know that," Glass said.
Glass said she is also leery of making changes that might diminish the overall airport experience. 
"Let's not lose what's made us so good, just to change," she said.
Whatever the board decides won't happen right away. An identical presentation will take place in March for board members not present at Friday's gathering. Then it will take a few months to refine the plans and come up with a budget.
The airport plans to do the work over a span of several years, Executive Director Mario Rodriguez said.
The current timeline calls for design and construction to begin in the second quarter of 2018, with work continuing into 2025.
Work will happen gradually so that passengers aren't inconvenienced, Rodriguez said.
"This isn't a thing that you do overnight," he said. "It's going to be very incremental."
Please enable JavaScript to view this content.