The co-op gallery that opened in downtown Danville this summer might be taken for granted if it were in a town with a wider
reputation for the arts.
Here, it's a welcome sign that a cultural scene is taking hold in the western
suburbs. Gallery on the Square, supported by the all-volunteer Hendricks County Arts Council, features 18 artists and offers
classes to the public.
It's one of a number of recent arts ventures in Hendricks County. The long-running
Hendricks Civic Theatre is converting an old country church into its permanent home. And the Hendricks Symphonic Society is
preparing for its third season.
These efforts have been community-oriented so far, but the artists aspire to
reach a broad-based audience.
"We'd like to serve central Indiana," arts
council President Kathy Brelage said.
Joan Kisner, an arts council board member and one of the gallery artists,
is even more ambitious. "We could give Brown County a run for its money," she said.
Suburban challenges
Although Hendricks County is one of the fastest-growing
counties in the state, its artists are competing for recognition with places like Zionsville and Carmel,
where organizations benefit from large budgets and public investment.
Brelage said the Hendricks
arts council is striving to one day help support the theater and symphony. For now, its budget is about $8,000
a year and the main effort is the gallery, which had been in the works for 18 months.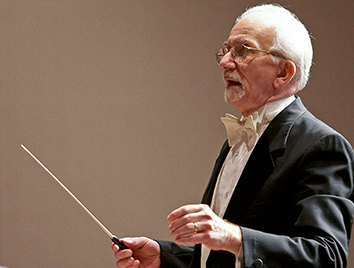 Ben Del Vecchio conducts
the Hendricks Symphony Orchestra and Symphonic Choir. (Photo/Paula Alkire. Courtesy White Lick Arts)
Gallery
on the Square will give the council its first year-round physical presence. Though the council organizes
two events a year—an art-and-antiques appraisal in the fall and a countywide exhibit in the spring—many
people don't know it exists.
"It has been word-of-mouth," Brelage said.
The co-op gallery's landlord, Chuck Watts, also owns the historic Royal Theater two doors
down on Washington Street. He's been promoting the theater with its rich acoustics as a live music
venue for more than three years, but he said filling seats still requires a lot of promotion outside Hendricks County.
Watts said he hopes a critical mass of places like the gallery will help make Danville a destination for arts and
entertainment.
"It's beginning to emerge," he said. "It's still feast or famine.
It is getting progressively better and I am guardedly optimistic."
The Hendricks Symphonic Society received
startup grants from the county's community foundation and the town of Avon, but now needs to build its donor base.
"It's building the organization that's the hardest," conductor Ben Del Vecchio said.
Half the society's $72,000 annual budget comes from ticket sales and other earned income, but Del Vecchio
would like to drive that share of revenue down to 30 percent, reflecting broader philanthropic support.
Hendricks
County is not the only suburb working to raise its cultural profile.
Fishers is home to the 3-year-old Fishers
Chamber Orchestra, a Renaissance festival, an arts council and the historic Ambassador House. The not-for-profit groups recently
formed the informal Fishers Cultural Alliance.
The alliance is trying to capitalize on research that discovered
Fishers residents find the local events calendar lacking.
"It's not going to be all about soccer
fields in the near future," said the alliance's administrator, Jenny Guimont. "That's being recognized."
Fishers is off to a good start, Guimont said. The town has several well-attended festivals, and the parks department
offers summer arts programs to kids. The next step may be coming up with more arts events, and generating support for shops
that sell locally crafted goods.
Striving for recognition
Steven Coomer, a retired
music teacher and free-lance trumpet player who lives in north Indianapolis, said he plays with the Hendricks symphony because
it's ambitious.
For example, he said, this year's season will end with Beethoven's Symphony
No. 9, for which Del Vecchio is recruiting an additional 40 singers.
"What we're presenting is challenging
stuff to the musicians, and then quality to the audience," Coomer said.
All the concerts are at the 700-seat
auditorium at Avon Middle School South.
Coomer, who is president of the symphonic society, said the group wants
to draw audiences from throughout the west-side suburbs.
He wants to see the Hendricks symphony gain the same
level of recognition as the Carmel Symphony Orchestra, or the Indianapolis Philharmonic Orchestra.
Del Vecchio
has worked with several fledgling symphonies, including one in Kokomo. He said the Hendricks County startup seems to be evolving
more quickly. Working without pay for the first year, he immediately recruited a 75-member orchestra and 85 singers, the Hendricks
Symphonic Choir.
"I cannot believe the people who came out of the woodwork," he said. "It's
been a thrill."
One of the challenges of promoting art in the suburbs is changing the habits of residents
who rely on Indianapolis for cultural offerings.
With the co-op gallery in Danville, Brelage hopes residents
of Avon, Brownsburg and Plainfield will learn to head west when they feel like browsing for art.
"We'd
like them to see the local artists here are great," she said.
A town of about 8,100 people, Danville has
a history of supporting fine art—at least once a year.
About 3,000 turned out this summer for an annual
performance by the Indianapolis Symphony Orchestra in the amphitheater at Ellis Park.
Norm Gulley, a former
town council member and classical music lover, has been promoting the ISO performance and other acts in the park through the
not-for-profit White Lick Arts since 1988.
The notion of having the Indianapolis Symphony Orchestra play in Danville
drew some ridicule at first, Gulley said.
"I had more people say, 'Gulley, you're going to
have more people in the orchestra than you will in the audience,'" he recalled. But, Gulley said, "People
came and came and came, and they still come.
"We might be out here in the sticks, so to speak, but we've
got some great music lovers."•
Please enable JavaScript to view this content.