Every year, the Indiana State Fair powers that be select a signature food and invite vendors to use that item as a key
ingredient in a for-sale dish.
This year that item is the tomato, the bright red orb that is a standard item
in low-maintenance gardens and Red Gold cans. If the five finalists didn't come up with anything
likely to be a fair staple, they at least provided us an excuse to get out on opening day for a sampling
survey. (And, yes, we also tried the chocolate covered—and tomato free—bacon. The less said
about that, the better).
All dishes will be available through the Fair's closing day,
Aug. 23.
Pizza Cone: We had high hopes for the concept: tomato and cheese (plus optional pepperoni)
tucked into a nest of baked dough. But standard-issue sauce, partially melted cheese, and long wait time led to
our lackluster response. ($4. Find it at King's Concessions, located near the Home & Family Arts Building.)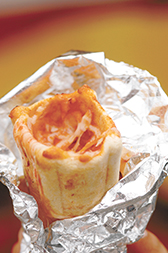 Pizza Cone (IBJ Photos/Robin Jerstad)
YaYa's Tomato Balls: This one, it's claimed,
comes from a family recipe from the old country (Greece, in particular). And the deep-fried combination
of tomato, grated cheese, onions, spices and bread crumbs does taste like there's history in it.
Our favorite of the bunch. ($6. Papageorge's Inc., located near the West Pavilion across from Hook's.)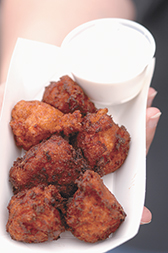 YaYa's
Tomato Balls
Fried Pizza: Judges picked this one as the winner, and we sort of understand that,
given the competition. But this attractive item is really little more than an elephant ear ladled with
a thin coating of sauce and sprinkled with cheese. Forgive us for expecting something more akin to the
Panzarotti, the more appetizing steam-filled calzone variation that's been around for generations.
($5, Urick Concessions, located near the Grand Hall.)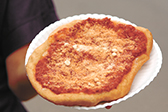 Fried Pizza
Tomato Bob: Seriously? A couple of cherry tomatoes and slices of cucumber
and green pepper qualify as a State Fair finalist? This healthy-but-so-what entry is more of a children's-area
craft exercise than a worthy food competitor. ($3, Smith Concessions, located near the West Pavilion)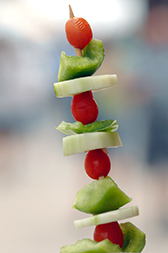 Tomato
Bob
Sun-dried Tomato Pork Burger: Moister than one might expect, this slider puts most of the
tomato flavor on top, where it moistened the bun more than flavoring the fried pork. A good enough snack,
if not particularly memorable. ($3, Barto's Catering, located near the Farm Bureau Building.)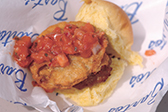 Sun-dried Tomato Pork Burger
Please enable JavaScript to view this content.