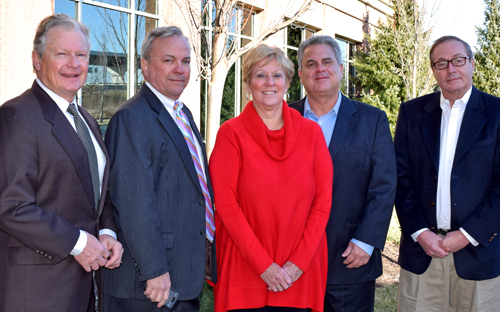 Indianapolis-based wealth management and investment banking firm Noyes Financial Group has added three former City Securities Corp. bond experts to its roster, establishing the first fixed-income team at the 108-year-old company.
The firm announced Wednesday that John Franz and Rick Hursh have joined the company as senior vice presidents of institutional fixed income sales, and Sandy Garrett has been hired as registered client service associate. Franz, Hursh and Garrett spent 15 years, 21 years and 32 years, respectively, at City Securities Corp. before it was sold to Stifel Financial Corp. last year for an undisclosed price.
In joining Noyes, the trio will reunite with two other former City Securities colleagues: Tom Enright, who's senior vice president and fixed income underwriter, and Michael Geraty, senior vice president of fixed income trading.
"By reuniting with Tom and Mike, John, Rick and Sandy add vital strength to our fixed-income team," said Robert Welch Jr., Noyes' senior managing director of its capital markets division, in written remarks. "Together with investment banker Mark Moore, the Noyes team possesses more than 150 years of collective experience in the municipal bonds sector and will be recognized for its in-depth experience with bond issuers and their advisers, as well as bond buyers and sellers."
Moore, who was Indiana's first public finance director in 1990 under former Gov. Evan Bayh, joined Noyes in 2015.
Franz, Hursh and Garrett all came on board within the past few weeks, Welch told IBJ. Enright and Geraty have been with Noyes for more than a year, but were somewhat limited in what they could do before the staff additions.
"The three parts need to be there for it to work," Welch said. "Underwriting, distribution and banking. It really does not work until you have it all there."
Welch said the idea for creating the unit came a few years ago, but the sale of City Securities created an opportunity for Noyes to make key hires.
"The reality of it is, Stifel already has a desk that does this in a different city in a different state" Welch said in an interview. "So, when they bought City, they just shut all of that down. So Indiana didn't really have a desk like that anymore, and now they do with a 109-year-old firm."
The fixed-income unit will underwrite primary municipal, taxable and tax-exempt bond issues. It will also create a secondary market in bond issues. They'll be doing Indiana-only issues to start, Welch said, and then expand from there.
"It sets Noyes apart in the Midwest," Welch said about the group, "and it positions us well for future growth."
Please enable JavaScript to view this content.