John D. Clark III took over as CEO of the Indianapolis Airport Authority in April. He replaced John Kish, who led the $1.1 billion midfield terminal project and now heads a municipal stadium construction project in Evansville.

Clark arrives at a challenging time. Thanks to the recession, passenger traffic is down 10 percent and cargo volume is off 16 percent. Airport revenue is expected to fall $15 million below projections for this year. And the airport now pays a roughly $40-million-a-year mortgage on the new Weir Cook terminal. Clark managed to help grow revenue and air service as head of the Jacksonville Aviation Authority, and Indianapolis officials hope the veteran airport manager can do the same here.

Clark recently spoke with IBJ about challenges facing the airport.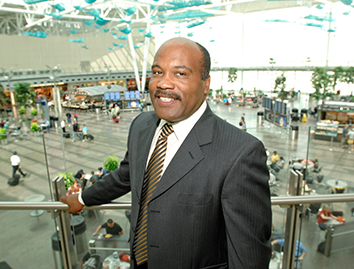 Clark wants to replace the old terminal with aviation and commercial uses. (IBJ Photo/Robin Jerstad)

IBJ: What's your impression of Indianapolis International?

Clark: I look at Indianapolis International and think, "Wow, we have a brand new terminal facility that's state of the art—that has considerable capacity to take us into the future. We have runway capacity that will take us into the future. We have FedEx sitting here, which is the second-largest hub they have. We sit right in the middle of many national highway systems. So it's a dream.

IBJ: What challenges do you see?

Clark: One of the challenges I see is, most of our revenues are derived based on passenger activity. I think we need to begin to look at how to diversify our revenues. And what I mean by that is the concessions, the parking—people flying generate the largest portion of our revenue. So when traffic is down, then revenue is down. So that's a direct hit for any associated business here. My hope is that we will begin to look at ways to put some other types of development in place so we're not dependent on people flying in and out of Indianapolis.

IBJ: Didn't Jacksonville have more diversified sources of income?

Clark: When I was in Jacksonville, one of the things that I pushed in terms of making Jacksonville financially self-sufficient in every respect was, one, driving down the cost that the airlines paid to the airport to operate there. The second piece of that is creating revenue opportunities that did not depend on whether people were flying in and out. The advantage to that is, we can then keep the cost to the airlines down. And when you're a secondary market, as Indianapolis is, we've got to be very competitive in our pricing. Next year, the airlines' agreement expires here [with the authority]. So where we have to be is in a position where, "Look, we've taken on this new terminal and, yes, it has high debt associated with it but here are the steps we are taking to ensure that your cost of business doesn't continue to grow here."

IBJ: What is the potential here for reducing costs and diversifying revenue?

Clark: Logistically, I think we are set up very well. We have instant access to a highway system. We have FedEx out here. We have a runway system where there are no delays. I think we are one of the best airports in terms of managing runway operations in winter months. So there's a lot of pluses that we have. It's packaging that. It's working with the convention and visitors association. It's working with the [Eli] Lillys, it's working with the WellPoints, it's working with the companies here to understand, for example, what kind of conferences are coming into Indy in the next two or three years.

So by partnering with other businesses in this community, we get an opportunity to kind of see the growth opportunities. Where is the next interest and thrust in terms of a market? And then we can pitch that. We can say [to airlines], "Historically this is where the numbers have been from Indy to, say, San Diego or San Francisco. However, did you realize in the next three years we have 'X' number of conferences and the base of those people are coming out of the western region?"

So not only do we have the historical data, but we have the prospective data. And there are certain extrapolations that, "OK, here's the kind of yields you can get out of nonstop service."

IBJ: What kind of cost-cutting, revenue-enhancing targets do you have?

Clark: We haven't penned a number. But the biggest driver is looking at what the airlines' cost per enplaned passenger is. … I'll give you an example. One of the things I think you have heard me speak of is, we have this beautiful terminal facility that is designed to allow a lot of natural lighting. But when I first came on board, it felt like every light that could be on was on during daylight hours. So the question being, if you have a facility designed to allow natural light, then why are we spending money on electricity? We have now shut down over 1,100 lights. And no one knows the difference.

One of the police officers came up and said, "You know, when you look at when traffic goes down, all the escalators are still running. Could we shut down a couple of those?" Well, absolutely. Could we not put sensors on those so that when they're not in use they come to a stop? When people approach, they start working again. So it's beginning just to think, how do we begin to affect the cost of operations?

IBJ: How about the old terminal? Are you getting close to looking at redevelopment?

Clark: In fact, we've begun the process to scope it out. What we're going to do is take a two-tier track. One, we want to solicit to the university systems here and allow them to take an academic look at it. Secondly, we want to get a company or a partnership of companies to look at the highest and best use. And the reason we want to do that is that there is as much aeronautical application as there is commercial application.

By way of example—fresh flowers. It's a multibillion-dollar-a-year industry. But yet the two points of entry into the U.S. primarily are New York and Miami. That's just where it comes into the country and it goes from there. Why couldn't it be Indianapolis? So there is an aeronautical but yet a commercial application.

IBJ: Are you in a position to sell some of that land—even though some of it was paid for with federal money?

Clark: That would be something I'd have to visit with the board about. I'll tell you as a philosophical point of view as somebody who has done this for a long time, I'm not a real proponent of airports selling land. I'm a proponent of airports buying land and therefore they have better control. The one thing you can say about the major airports in this country is that they buy land, they create the airport and before too long there's encroachment all along the airport. And then it's time to grow and then you have to buy out that piece that's now been developed.

IBJ: What got you interested in the aviation field?

Clark: My father was in the computer business and my uncle was in the aviation business. He worked for PSA Airlines in California. Every weekend that I possibly could from elementary school on, I would literally go to work with him. So I could hang around the airport. In fact, he would put me on the planes, with flight attendants, and [I'd] fly down to San Diego or Los Angeles and hang around the airport. Then they'd put me back on a plane, and I'd come back to San Francisco. It was a very different environment back then.

[Later] I was in the Air Force. I was in California, at Fresno Airport. I did an internship there and I was offered a position once I finished. And I've been at it ever since. My son has taken it on. He just graduated in December from Hampton University, in aviation management.•