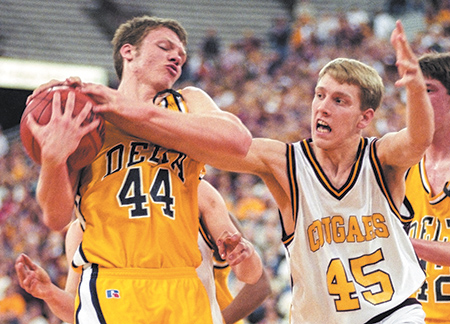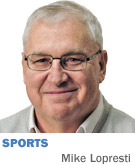 MUNCIE—March 22, 1997, 20 years ago. The day the music died in Indiana.
The Bloomington North Cougars climbed the ladder as history-makers that night in the RCA Dome, cutting down the nets as the last stand-alone state basketball champion Indiana would ever see.
Ahead lay a four-class tournament that would deliver more trophies and more celebrations. But the price tag was less magic. Among the things lost that day was the chance to be Cinderella.
Which brings us to here, and a gold and blue sign facing State Road 28, on the northeast outskirts of Muncie, with two words at the bottom: "We believe."
Bloomington North was the last single-class champion, all right, but here was the last Cinderella story Indiana's tournament would ever see. The Delta Eagles. No Milan, to be sure, with 900 students and change, but smaller than four of the last five schools they had to beat on their way to the 1997 state championship game. An unranked team that started the season 3-3 but came together at the end, to be there the night Hoosier Hysteria said goodbye to its aura.
"Obviously, you know it was something that was really special, and it wasn't about you; it was about the state of Indiana and Indiana high school basketball," Billy Lynch said over the phone from Houston. "Just getting to be a part of it is something none of us will ever forget."
Billy Lynch? He was a senior guard for Delta. Also the mental attitude Trester Award winner—the last single Trester Award winner—and now an assistant football coach at Rice University.
"The media attention was unbelievable. The New York Post had a reporter with us the week before the state finals," Paul Keller said. "The crowds were very large, because everybody recognized this was the end of an era. You certainly couldn't put a price on what it was worth."
Paul Keller? He was the coach, now retired, though still a teacher. He would still be coaching when Delta won the 2002 Class 3A state championship. Curious thing. There is no sign outside the school facing S.R. 28 about that year.
"It's kind of ironic. The coaching and fundamentals I faced in '02 as a coach were stronger than they were in '97," he said. "The 3A teams were generally not as athletic as some of the big 4A schools, but the execution and a lot of the fundamentals were stronger.
"But I will tell you this: In terms of the enthusiasm of the tournament as a whole, there's no comparison between '97 and 2002."
Delta's runner-up season included a shaky start, and later an 18-point loss to Wapahani. But by the tournament, the Eagles were ready.
"A lot of people forget, we almost didn't even get out of the sectional," Keller said. "We beat Wapahani [73-72] with a free throw with just a few seconds left."
Next, the Anderson regional: New Palestine in the afternoon, the host Indians at night, beaten by Delta 56-48 in their own Wigwam.
"To me, that was probably the biggest win of all, having grown up in Delaware County and knowing the tradition of basketball in Indiana," Keller said. Indeed, it was a major sign of the Eagles' potential. Bloomington North and Kokomo were each destined for the Final Four, and Anderson defeated both during the season.
"I'll never forget when we beat Anderson in the regional, and we came back to practice that Monday, the intensity of that practice and how Coach Keller got after us," Lynch said. "I don't think statewide and historically he gets enough credit for what he did. He got our attention really, really fast that we had a lot more work to do."
Next, the Hinkle semistate, and wins over Indianapolis Cathedral and Franklin.
"We had developed a confidence and a knack throughout the tournament that we could play from behind," Lynch said. "And once we got up, we could spread you out and handle the ball and cut you up and win games."
Then, the Final Four. The final Final Four. Keller was getting fan mail from everywhere.
"I can't even explain the enthusiasm that was shown in this area," he said.
Delta faced LaPorte—twice its enrollment—in the morning game of the state finals. It didn't begin well. The Eagles were down 18-4 after four minutes, but steadily came back, until there were 13.2 seconds left, Delta behind 56-55. Keller drew up the last play to get the ball to guard Patrick Jackson—"Petey," they all called him—and let him race up the floor and make something happen. Which he did, splitting the defense and getting the ball to Tyce Shideler for a layup with 4.5 seconds left.
"I was really blessed how that came out," Keller said. "It ended up being a 2-on-1. Petey made a real nice decision. He didn't try to be selfish; he gave it up, Tyce laid it in. It was an exciting way to head to the state championship game."
The 57-56 final score was Delta's only lead.
"Once we won that game, you just felt like you were going to go ahead and be able to finish it off," Lynch said. "I don't want to say we were a team of destiny, but everything had gone our way to that point.
"Then, we ran into a buzz saw."
About the first quarter against top-ranked Bloomington North that night.
"I was hoping that wouldn't come up," Keller said.
The quarter ended 7-0. The Cougars were too good, their defense too strong. The final score was 75-54. From that moment on, any smaller schools beating bigger schools in the tournament would have to be found in reruns of "Hoosiers." More than 56,000 people were there for two sessions that day. Last year, under 27,000 saw two sessions at Bankers Life Fieldhouse.
"It's a very special memory that you can't re-create," Lynch said. "Of all the state championship games that were played before us and all the class games played after us, there's only two teams that can say they played in the very last one. And we happened to be one of them."
The Trester Award?
"Funny you should mention that," Lynch said. It had been on display in his parents' basement all this time, but with the 20th anniversary coming, they dropped it off at his house just a few weeks ago. It's now in his 8-year-old son's room. "He probably thinks I was Mr. Basketball."
Keller, meanwhile, has lately been rereading a lot of the cards and letters from 1997. Once upon a time, there was an upstart named Delta.
"I don't think the magnitude of it had really soaked in. We were just playing for the state championship," Keller said. "I think it hit more the next year when we saw how the state tournament was and what it had digressed to. That's when you really realized, 'OK, it's over.'" 
Yes, it was.•
__________
Lopresti is a lifelong resident of Richmond and a graduate of Ball State University. He was a columnist for USA Today and Gannett newspapers for 31 years; he covered 34 Final Fours, 30 Super Bowls, 32 World Series and 16 Olympics. His column appears weekly. He can be reached at mlopresti@ibj.com.
Please enable JavaScript to view this content.