Viral Launch is going viral, at least as measured by its fast-growing client roster.

The Indianapolis firm sells software and services that help e-commerce outfits boost sales on online marketplaces, principally Amazon.com. It has racked up 2,500 customers in just over two years in business and is starting to get attention from tech observers in its own back yard, too.

The company, launched in October 2014, has reached milestones that often take years to reach—20 employees, at least $1 million in annual revenue, and profitability, to name a few.

The company's owner and CEO is Casey Gauss, a 24-year-old software development buff who dropped out of Indiana Wesleyan University to focus on the business. His top lieutenant is 26-year-old Darrian Mikell, a college peer who serves as finance guru. In recent months, the two have become interested in accelerating growth, and that might include seeking venture capital for the first time.

"The space is largely juvenile in terms of third-party services, and we need to seize that opportunity before that opportunity is gone," Gauss said. "Whether it's due to a competitor or the landscape changing—we need to get there before it's too late."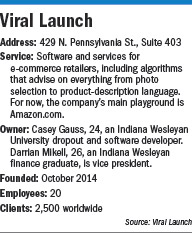 Viral Launch has two key offerings. The first is a subscription to software that gives insights into sales data and automates routine tasks like promotions and one-time-use coupons. Its second business, called Creative Services, provides professional photography, branding and label design, keyword optimization, and other offerings.

The Creative Services division, whose packages are available a la carte, is powered by algorithms that recommend which images, keywords and product-description language best drive sales.

Its clientele include retailers of consumer goods, automotive, beauty supplies, outdoor gear and more. Gauss said the company has helped firms go from selling one product a day to several dozen.

"Our clients range from guys doing a couple thousand dollars a month," he said, "to guys doing about $100 million a year on Amazon. And we have a significant hand in that."

The company, co-founded by Gauss and a college friend who's no longer involved, started out as a way to help retailers improve their search ranking online. The pair started with about $700—the only funding infusion the business ever has received. Gauss' business partner sold his stake to Gauss in October 2015.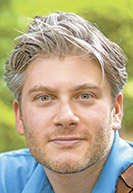 Wormser
Gauss is Viral Launch's top tech person, having engineered most of the software platform. He also has a hand in customer development. Mikell, who knew Gauss from their track-running days at Indiana Wesleyan, joined Viral Launch in summer 2015 and is now vice president.

Barry Wormser, founder of Indianapolis-based Wormser Legal, was introduced to Gauss in mid-2015 through a mutual business contact and became Viral Launch's law firm of record. Wormser said what struck him about Gauss early on was the young executive's maturity and determination.

"He's a driven guy who cares about the details and seems to get them right—and I could tell that from day one," Wormser said. "He gets that marketplace through and through. His eye for what they're doing and how he can help people best position themselves for product launches is unique."

Indianapolis isn't known for sprouting e-commerce companies that target consumers, local venture capitalist Kristian Andersen said. But it has cultivated a few firms that help such e-commerce players, including iGoDigital and FifthGear.
Andersen
Andersen said it appears Viral Launch falls into that category, which "sells pick axes instead of digging for gold."

"It looks like [Viral Launch] is building an impressive, high-growth business by helping people build better e-commerce businesses."

Other local tech observers said they've just started hearing about Viral Launch, and the firm was nominated in three categories for Tech Point's Mira awards—Rising Star (for Gauss), Scale-up of the Year, and Tech Service of the Year.

The company doesn't disclose annual revenue, but Gauss said it's in the "low seven figures." It grew revenue 250 percent from 2015 to 2016, he said, and its 20-employee head count is up from five last spring. It has yet to spend a dime on marketing.

But that's about to change. Mikell said the company can meet its growth objectives without venture capital for now, but investing to create greater brand awareness will be important when it does start reaching out to investors.

"We want to make some big waves, some big splashes and be at a more ideal position when we go for" venture capital, he said.

Outside capital could allow the company to fuel growth—salespeople, software engineers, customer service specialists—faster than through reinvested profits. But waiting to take on outside capital could give Gauss more leverage in limiting the amount of ownership he gives up.

Andersen, the venture capitalist, said investors looking at Viral Launch might be impressed by growth so far and market opportunity, but they also might be concerned that the company has essentially built a business on top of another business.

If Amazon decided to change an algorithm that's core to Viral Launch's business—or start a competing service—that could spell doom.

But Andersen noted that Amazon is one of the few tech giants that's been friendly to companies that have built on its platform. If Viral Launch is driving sales that might not have happened otherwise, Amazon benefits.

"I'll tell you what: If I was going to build a business on top of anybody else's business, Amazon would be at the top of my list," he said.

Gauss said he understands the implications of building a business on another business, but thinks Viral Launch is in safe territory. For one, the company has services that aren't totally driven by algorithms. Those include consulting based on best practices it has observed.

Beyond that, it's laying the groundwork for a future in which it helps not only Amazon.com retailers, but e-commerce retailers on any platform.

Gauss said he hasn't encountered competitors with software and services like Viral Launch's, but added there's a ton of "internet marketers" who sell unproven tactics to unsuspecting retailers. He said he's out to beat those marketers.

"They're winning because they're good at marketing, not because they really know what's going on," he said. "So now I kind of have a chip on my shoulder, like we're going to beat these guys at their own game."•