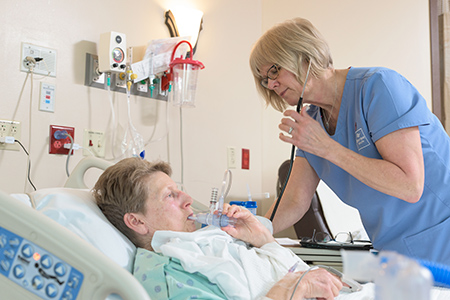 For years, Riverview Health was the sole major health care provider in Hamilton County.
But then the U.S. 31 corridor and Interstate 69's exit 210 filled with medical offices and hospitals, while smaller specialty offices filled the areas in between.
Riverview has weathered the competition, though, and continues to expand its reach. The county-owned entity has more than $100 million in ongoing projects, making it one of the biggest eras of growth in the history of Riverview, which opened its Noblesville hospital in 1951.
All the while staying in the black. For 2015—the last year for which numbers are available—Riverview made $23 million more than it spent.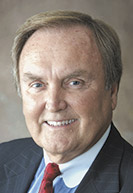 Dillinger
The latest plans include pioneering into Westfield with a major-medical facility, expanding and renovating the main hospital in Noblesville, and implementing a new organization-wide computer system.
And the investments are well-timed given recent expansions of other providers, including IU Health and St. Vincent, which are opening medical offices in Westfield and Noblesville.
"Riverview's biggest problem is maintaining the smaller hospital integrity and battling the bigger hospitals that are trying to expand all over Hamilton County," Hamilton County Commissioner Steve Dillinger said. "I think they're going in the right direction."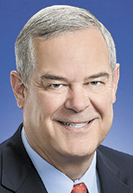 Abel
Ed Abel, hospital accountant with Indianapolis-based Blue & Co. LLC, said the ongoing investments should help keep Riverview competitive.
"Riverview has been an outstanding performer. They have an outstanding reputation," Abel said. "If you compare the hospital that was there 30 years ago to what it is today, it's nothing short of remarkable."
Riverview's Westfield operation, set to open later this year, will be that city's first hospital.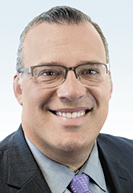 Warren
"All sorts of folks have sort of built up the health care corridor," Riverview Health CEO and President Seth Warren said about the development along U.S. 31 in southern Hamilton County. "But what we saw that was not being met was the needs of folks further north."
The 108,000-square-foot Westfield hospital, which will be at the highly visible intersection of U.S. 31 and State Road 32, will include outpatient services such as urgent, primary and specialty-care physician offices; an ambulatory surgical center; radiology and laboratory services; rehabilitation; physical and occupational therapy; and an outpatient pharmacy. It will also include inpatient beds, three surgery suites and an emergency room.
The project cost is $50 million.
"I think this will be a good move for them to broaden the markets they serve," Abel said. "And I think it will be great for the residents of Westfield."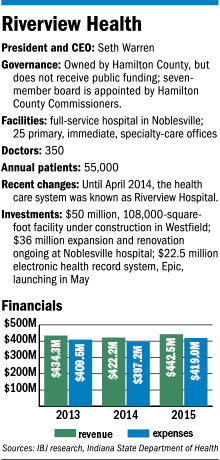 Warren said other health care systems are "dabbling" in the Westfield area, but it's likely they've been waiting for the population to grow to a certain point.
The city's population increased 22 percent from 2010 to 2016, according to the results of a special census the city commissioned. More than 36,800 live there.
The 2015 completion of widening and upgrading U.S. 31 to interstate standards through Hamilton County has "really opened up, I think, the growth in that market," Warren said. "The timing is just right."
Dillinger said Westfield could be the next Hamilton County community to see significant growth, like Carmel and Fishers witnessed over the last 20 years, which means other health care providers might not be far behind.
Riverview's "getting there first is a big advantage, I think," he said.
IU Health has already made its first investment in Westfield: A 9,800-square-foot primary-care office at the Spring Mill Station development near the southeast corner of 161st Street and Spring Mill Road opened this month.
Competition, improvements
Riverview's competition in Noblesville is also increasing.
IU Health is constructing a 22,000-square-foot medical office that is expected to open this year at the northwest corner of 146th Street and Hazel Dell Road.
The office will provide primary care, physical therapy and rehabilitation services.
On the southeast corner of that intersection, Riverview already has a medical office that provides rehabilitation; primary care; orthopedic services; and physical, occupational and speech therapy.
St. Vincent has announced plans for a Noblesville micro-hospital at the corner of 146th Street and State Road 37. The facility will be used for patients who don't have life-threatening conditions. It is expected to be about 19,000 square feet and have beds for emergency, observation and short stays.
But Riverview is also investing in Noblesville. Last year, hospital officials discussed plans for a $36 million to $40 million expansion that would add an outpatient care center and parking garage and configure a new main entrance on the east side of its main campus near state roads 32 and 38.
A majority of the project has been put on temporary hold.
Local and state officials haven't been able to agree on how the new entrance should be designed, and traffic is too heavy to complete the expansion without creating some sort of new intersection. Because S.R. 32 is under state control, the road changes require approval from the Indiana Department of Transportation.
So, Riverview is waiting to see what happens with the city of Noblesville's proposed upgrades to Pleasant Street to relieve traffic from S.R. 32.
"It's already a busy roadway and we recognize that and we don't want to further contribute to it," Warren said. "We're figuring out the roadway situation before we move forward."
Some renovation and expansion has progressed, though. The steel frame has been constructed for a 10,000-square-foot addition on the west side of the hospital that will house another MRI center and other undetermined uses. That should be finished by summer.
The transitional care and rehabilitation units are also slated for renovation, the gift shop is going to be moved, and a new coffee shop has opened.
"We're going to try to upgrade the facility to meet the needs and wants of the patient," Warren said.
Upgrades are also happening behind the scenes.
Riverview is spending $22.5 million to implement a new electronic health record system through Wisconsin-based Epic.
Once it's complete, doctors at all of Riverview's facilities will have the same view of patient records at the same time, and patients will have access to their records through an app called MyChart.
The system is also used by St. Vincent, Franciscan Health, Community Health Network and IU Health.
Abel said Epic is regarded as one of the top-tier systems for health care providers.
"It's an A+ piece of software, if you will," he said.
The program is scheduled to go live May 6.
Secrets to success
Riverview is significantly smaller than some of its competitors, but some say that's actually helped keep it successful.
"They really haven't tried to be something they're not," Abel said. "For instance, they're not a transplant hospital."
Dillinger agreed that the hospital—which had nearly $443 million in revenue in 2015—has focused on what services the community needs that it can provide at a high-quality level. For now, that doesn't include procedures like transplants.
"The only reason, in my opinion, for us to have a county hospital is for us to do things more compassionately," Dillinger said. "I don't care if Riverview makes a big profit—I want us to stay in the black—but I want us to be community-service-oriented. … When you're a small hospital, you just have to do things better."
Warren agreed that the key to Riverview's success is quality service.
"We really view ourselves as a small organization that can get to know the patients," he said. "We see them at church and the grocery store. It's important to us to have those relationships with our patients because we do interact with them outside the four walls here."•
Please enable JavaScript to view this content.