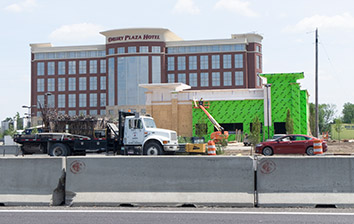 After five years of orange barrels, lane restrictions and congestion, the U.S. 31 corridor is open for business again.
Soon, new retailers, corporate offices and more will be open, too. More than $235 million worth of development is anticipated or already under construction along the roadway through Carmel and Westfield—and that doesn't include a handful of the projects with undisclosed costs.
The heavily traveled stretch is already dominated by corporate offices, health care services and hotels, and experts say there's room to grow those markets. But growth will also come from retail, sports and hospitality-related businesses; redevelopment of existing office space; and the addition of parking garages.
The $350 million highway construction project led by the Indiana Department of Transportation upgraded the road to interstate standards. It's been dubbed the largest and most aggressive road project in terms of dollars spent ever in Hamilton County.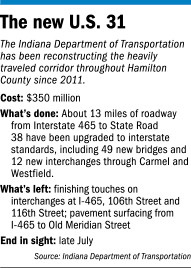 In December, state and local leaders officially opened the redesigned highway, but work has continued on the Interstate 465 ramps and at the 106th Street and 116th Street interchanges.
Crews are expected to pack up by the end of July—shortly after the new Drury Plaza Hotel at 96th Street starts welcoming guests and around the time new retail tenants in Carmel and Westfield developments will open.
The road project is "something we had been planning for since the mid-'90s, so we're relieved that the construction period is kind of winding down," said Mike Hollibaugh, director of community services for the city of Carmel.
"I'm sure everyone is relieved, and they'll be glad to see the last of the paving machines carted off."
During construction, some had feared companies would move offices away from the corridor and that retail businesses would close or move. Officials acknowledge some of that turnover has occurred, but the area maintains the lowest office vacancy rate in the Indianapolis region and new retail developments have secured tenants.
"Even during construction, the corridor has continued to flourish," Hamilton County Economic Development Corp. CEO and President Tim Monger said. "That was a concern that turned out to be not an issue."
Some projects that started in the midst of construction are now winding down or are expected to finish by the end of the year, including a $6.1 million office revamp by AgReliant Genetics LLC, Delta Faucet's $15 million expansion, and Liberty Fund's new $22 million headquarters.

Monger
"It really speaks to the status of the Meridian corridor as one of the premier suburban office locations," Monger said.
On the retail side, nine tenants are on tap to open in four new retail buildings at The Bridges near 116th and U.S. 31 this summer.
"They were smart with the timing," Hollibaugh said. "They'll open when the construction is winding down."
In health, Indiana Spine Group is adding to its three-story Carmel facility, and in Westfield, Riverview Health is spending $34 million to open a six-story outpatient care center.
And then there are the hotels.
New lodging facilities are in the pipeline for both cities. The Drury Plaza Hotel should open this month, a Hyatt Place Hotel is expected to open next to the Ritz Charles within a few years, and the Hampton Inn by Hilton broke ground in May on its four-story hotel near the State Road 32 interchange.
Ravi Patel, with Sohum Development LLC, said the U.S. 31 corridor market "is really appealing" for hotels because of the strong business sector and heavy leisure travel associated with Grand Park Sports Campus in Westfield.
Sohum is developing the Hyatt Place Hotel in Carmel.
"We do think the market is going to grow," Patel said. "My decision wasn't based on Grand Park. It was icing on the cake."
On the horizon
Most of the Carmel section of the corridor has been developed, but Hollibaugh said the city expects to see the remaining pockets—including land near 106th Street—developed soon.
No plans have been filed with the city, but an 18.2-acre property on the west side of U.S. 31 between 106th and 111th streets is listed for sale for $6.2 million. Concept plans included with the property listing by Resource Commercial Real Estate show multiple multistory office buildings with a surface parking lot.
Hollibaugh
"I'm pretty bullish that something will happen there soon," Hollibaugh said.
Redevelopment of existing office parks could also occur, and Monger said he expects parking garages to be part of that.
"In order to do more office space along the Carmel portion of that corridor, a developer is going to have to get creative with what to do with parking," he said.
Other existing projects will also continue to build out, including Meridian & Main and The Bridges.
Meridian & Main, led by Browning Investments, was introduced before the roadwork kick-off in 2011, but it hinged on the addition of a Main Street interchange at U.S. 31 to provide more access to the property. Before the interchange, Main Street came to a dead end at the highway.
Some progress has already been made: Indiana Spine Group's initial facility broke ground in 2010 and two 15,000-square-foot retail buildings have opened. Tenants include Wild Eggs, Crown Liquors and I Love Juice Bar.
Jamie Browning, vice president of real estate development for Browning, said the interchange will have a "major impact" on the area.
"We expect this Main Street corridor to become another prime address in the city of Carmel," Browning said.
A 25,000-square-foot building and 100,000-square-foot building are expected to be added to Meridian & Main within the next year, according to Browning.
Long-term vision
The Westfield portion of the corridor could take longer to build out, but the city has already crafted zoning regulations to promote multi-story buildings visible from U.S. 31.
"You've got a lot of existing industrial product along there that I believe Westfield is looking to change out," Monger said. "I think that's going to take some time."
Mayor Andy Cook said he envisions the road as a hospitality center with health services and sports-related businesses that complement Grand Park.
Several mixed-use developments have been proposed near the S.R. 32 intersection—a key area for the city—that include hotels, sit-down or fast-casual restaurants, family entertainment venues and medical offices.
After the S.R. 32 interchange is built out, Cook expects attention to shift north to 191st Street as that exit becomes more frequently used by Grand Park visitors.
The city also expects the improved access to the community to boost its attractiveness to businesses.
The value of commercial remodel permits filed in Westfield has already increased from $539,000 in 2015 to $4.5 million this year.
"You're really breaking new ground—no pun intended—up in Westfield," Monger said. "What does that portion of Westfield look like in terms of the mix? I think that's sort of yet to be determined."•
Please enable JavaScript to view this content.