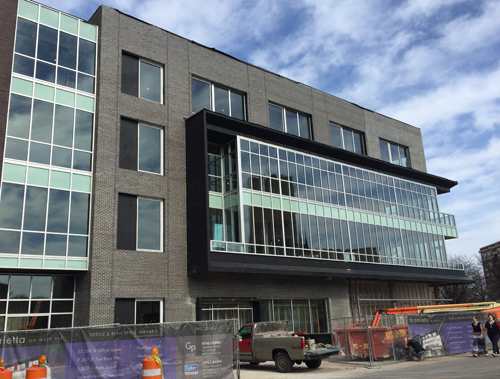 A New York-based provider of co-working space has inked a deal with Gershman Partners to take two floors in the developer's new Marietta building on Massachusetts Avenue, bringing it near capacity.
Industrious will take floors two and three in the four-story structure at 350 Massachusetts Ave. next to the Marott Center. It plans to open in September, the company announced Friday morning.
"Indianapolis is one of those Midwestern cities which has not gotten the national attention it deserves, but its contagious energy and vibrant workforce made it a clear frontrunner for our 2017 expansion plans," Industrious President Justin Stewart said in an email.
Stewart co-founded Industrious in 2013 with Jamie Hodari. The company has locations in Atlanta, Chicago, Los Angeles, Minneapolis, New York, Philadelphia and St. Louis, in addition to Columbus, Ohio and Raleigh, North Carolina.
The roughly 18,300-square-foot space at The Marietta will contain 70 to 80 private offices for companies of up to eight employees, as well as reserved co-working space for groups of 8 to 10.
Members will pay a flat monthly fee starting at $450 per person that includes the office space, outdoor terraces, unlimited printing, mail services, Internet, and conference rooms and services.
Users will have 24-hour access to the building, and leases will be as flexible as month-to-month, Industrious said.
"They are a great fit for our goal of bringing high-level vibrancy and creativity to the 300 block of Mass Ave," Eric Gershman, a principal of Gershman Partners, said of Industrious in an email.
 
Industrious will occupy space above The Kitchen and below Gershman's corporate headquarters.  
The Kitchen, a Colorado-based restaurant group, announced in November that it will open its first modern American bistro, in The Marietta.
The group has signed a lease to occupy 5,500 square feet on the ground floor of the 30,000-square-foot addition to the Marott. The yet-to-be-named restaurant is expected to open in late spring or early summer.
Gershman, which now leases space in Parkwood Crossing on the north side, will move its offices in April to the fourth floor, leaving 2,200 square feet left on the floor to lease. Eric Gershman said the company expects to have the space leased next month, which will bring The Marietta to capacity.
 
Rich Forslund and Matt Langfeldt of Colliers International represented Gershman on the Industrious deal.  
Industrious is the second co-working company this year to announce their arrival to Indianapolis. In early January, Chicago-based Level Office said it purchased the historic Circle Tower downtown with plans to renovate part of it into communal work areas and private offices for members.
Level Office acquired the 14-story, art deco building at 55 Monument Circle from locally based Ambrose Property Group. Level Office said pre-leasing of space is under way, and the company already has signed its first member.
Please enable JavaScript to view this content.