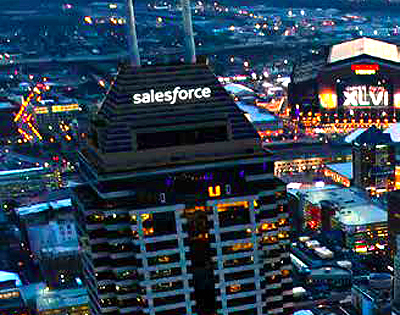 Salesforce.com Inc. on Tuesday filed permit drawings with the city of Indianapolis for its Salesforce Tower signage—finally giving an image to the vision the company set last May when it said it would assume naming rights on the state's tallest building.
Salesforce submitted the renderings to the city's Department of Metropolitan Development for approval.
The renderings—which show the word "salesforce" in lowercase letters on the north and south side of the 48-story tower—aren't final and are subject to change, the company said.
With its announcement, the company issued this statement from Bob Stutz, its chief analytics officer and Marketing Cloud CEO:

"As the world's fastest growing top [five] enterprise software company and one of the largest tech employers in Indiana, Salesforce is thrilled for the upcoming opening of Salesforce Tower Indianapolis—which will join the ranks of our other regional headquarters, including Salesforce Tower New York and our world-class global campus in San Francisco. With access to top local talent, we plan to further invest in Indiana and add 800 new jobs by 2021, making Salesforce Tower Indianapolis an amazing workplace for our employees and a hub where all are welcome."
Salesforce officials did not specify when the sign would go up or when employees would move in, only saying: "We are planning the first move of employees in the coming months, and we are still working with the city on timing for signage and do not have a firm date yet."
Real estate sources told IBJ earlier this month that the company was targeting May to christen the building with its name.
Salesforce has nearly 1,500 employees in Indiana and is taking up 11 floors in Salesforce Tower.
Please enable JavaScript to view this content.