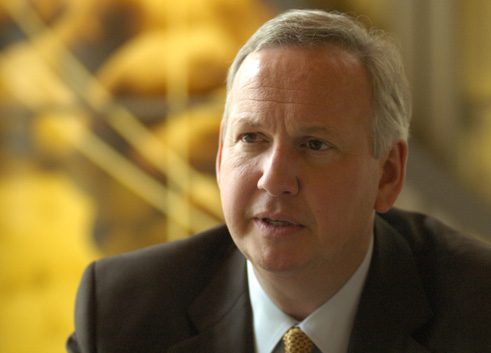 Former Indianapolis Mayor Bart Peterson is stepping down as a senior executive of Eli Lilly and Co. "to pursue personal business interests" and expand his community volunteer commitments, the Indianapolis-based pharmaceutical giant announced Thursday morning.
Peterson, 58, who served two terms as Indianapolis mayor, joined Lilly in 2009 and was its senior vice president of corporate affairs and communications.
A news release from Lilly did not provide details on Peterson's plans after he steps down March 31.
His family has a long history in real estate, and Peterson served as president of the Indianapolis-based developer The Precedent Cos. for four years before becoming mayor in 1999. After losing his bid for a third term to Republican Greg Ballard, Peterson served as a partner of an urban-redevelopment fund for Indianapolis-based real estate developer Strategic Capital Partners.
Lilly also announced Thursday that another veteran executive, Fionnuala Walsh, will retire April 15 after 28 years with the company. Walsh—who has most recently served as vice president of global quality for API manufacturing, product research and development—will be succeeded by Johna Norton, who has been with Lilly 16 years.
Like Peterson, Walsh was a member of the company's 13-person executive committee.
The leadership team at Lilly has seen a string of changes since Lilly veteran Dave Ricks succeeded John Lechleiter as CEO in January. Lechleiter, 63, who is handing over the chairmanship to Ricks in May, had been with Lilly since 1979 and had held the top job since 2008.
In January, Lilly announced that Alex Azar, president of Lilly USA since 2012, was leaving the company "to pursue other career opportunities."
At that time, the company also announced that Christi Shaw was rejoining Lilly to lead the Bio-Medicines division, which Ricks had led before his promotion. Shaw worked at Lilly from 1989 to 2002 but most recently was president of Novartis USA.
Please enable JavaScript to view this content.