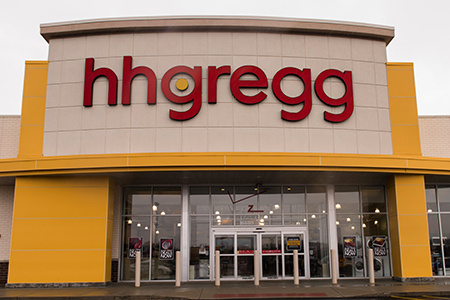 Struggling retailer HHGregg Inc. announced Thursday morning that it will close 88 stores and three distribution centers in an effort to return the company to profitability. The decison will eliminate 40 percent of the chain's retail locations.
None of the stores are in Indiana, the Indianapolis-based electronics and appliance retailer said.
The closures should be completed by mid-April and will result in the elimination of about 1,500 jobs. Following the closings, HHGregg will have 132 stores.
The decision to close the stores will help the company focus on its core markets, HHGregg CEO Robert J. Riesbeck said in a written statement.
"We are strategically exiting markets and stores that are not financially profitable for us," he said. "This is a proactive decision to streamline our store footprint in the markets where we have been, and will continue to be, important to our customers, vendor partners and communities."
HHGregg has reported losses in 13 straight quarters and has seen its stock plunge to Pink Sheet status. Shares fell 3 percent Thursday morning, to 12.8 cents apiece.
The company said it expects to incur pre-tax charges of $12 million to $21 million due to the closures, including $5 million to $10 million related to asset-impairment costs, $5 million to $7 million in employee-termination costs and $2 million to $4 million for other costs.
The company also has about $190 million in lease obligations related to the stores and distribution centers, HHGregg said in a public filing.
Stores slated to close are in Alabama (2 stores), Delaware (3), Florida (15), Georgia (4), Illinois (6), Louisiana (3), Maryland (11), New Jersey (2), North Carolina (4), Ohio (4), Pennsylvania (15), Virginia (16), Tennessee (1), Missouri (1) and West Virginia (1).
Distribution centers will close in Miami, Florida; Brandywine, Maryland; and Philadelphia.
"We have determined that the economics of the affected locations will not allow us to achieve our overall goal of becoming a profitable company again," Riesbeck said. "After scrutinizing our real estate portfolio, we have identified a number of underperforming stores, as well as store locations that are no longer strong shopping destinations due to changes in the local retail shopping landscape."
HHGregg announced Feb. 15 that it was pursuing a range of strategic and financial options with the help of outside advisers, to improve the company's financial condition. Bloomberg News reported Feb. 23 that the 61-year-old retailer was preparing to file for Chapter 11 bankruptcy reorganization as soon as March.
The company, which operates 220 stores in 19 states, took a huge loss of $58.3 million in its latest quarter as revenue plunged 24 percent.
Richard Feinberg, professor of consumer science and retailing at Purdue University, said HHGregg appears to be making the necessary moves to save the company, though much uncertainty remains.
"These are exactly the steps you should take to control the hemorrhaging, but that doesn't mean the (remaining) stores will be successful," he said. "But you have to stop the bleeding."
Please enable JavaScript to view this content.